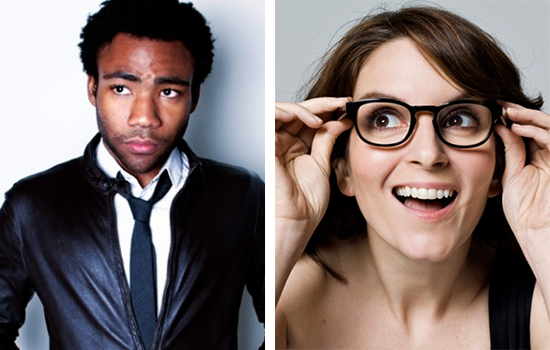 Tina Fey lets her ratchet side show a little on a song called "Real Estate," the final track on Childish Gambino's newly released free "Royalty" mixtape.
Fey, who worked with Gambino (real name: Donald Glover) on "30 Rock," appears with him on the song alongside rappers Alley Boy and Swank and comes in right before the 5 minute mark.
Her verse:
Yeah, we in here, we in this thing
Gambino is forever, royalty is forever
We ballin' till we f**kin up the hardwood, homie
This is the life we live, son
My President is black and my Prius is blue, motherf**ker
Royalty all day, we droppin' racks at Nordstrom, son
That's racks on racks, dammit! Ya feel me? You feel me?
This is the part where most people would say something crazy and drop the n-word after it
Not going to, not gonna do that! I DON'T FEEL COMFORTABLE!
I'm out.
As the Hollywood Reporter points, out, this isn't Tina Fey's first time on the mic — you may recall her turn as female rapper "Lemonem" in an episode of "30 Rock" this past season, but that sucked … really bad. And this doesn't!
Listen below:
Be the first to receive breaking news alerts and more stories like this by subscribing to our mailing list.