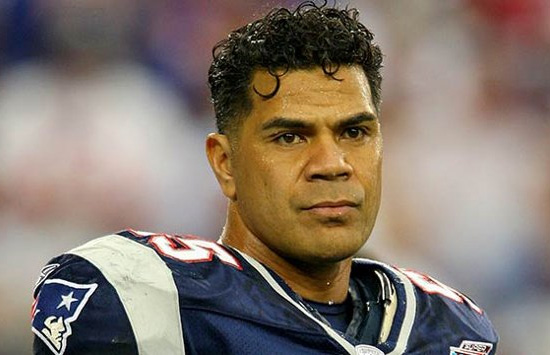 NFL legend Junior Seau — who played in the league for 20 solid years after being drafted in 1990 — was found dead at his beachfront home in Oceanside, CA Wednesday morning (Apr 2). He was 43 years old.
Oceanside Police Chief Frank McCoy told the press that Seau's girlfriend found the former NFL player unconscious with an apparent self-inflicted gunshot wound to the chest, and attempts to revive him were unsuccessful. He was pronounced dead at the scene.
McCoy says investigators found a handgun in the bedroom, and the case is being investigated as a suicide … though no suicide note was discovered at the scene.
Seau's mother Luisa Seau was hysterical and had a heart-wrenching breakdown while speaking briefly to reporters.
"Junior!" she cried. "Why didn't you tell me you were going." She said her son had joked with her on the phone just a few days ago, calling her "homegirl."
"I don't understand … I'm shocked," she cried out.
According to TMZ, Seau sent text messages to his ex-wife and kids yesterday, telling them "I love you," to which they all responded, but didn't suspect anything was wrong.
Seau last saw his kids 3 weeks ago, and sources say family members didn't notice any signs of depression in recent weeks.
Most people commit suicide by shooting themselves in the head (usually, to make sure the deed is done) … but Seau chose to shoot himself in the chest, which many believe to be a premeditated decision, considering several other NFL players have killed themselves similarly in an effort to preserve their brains for "NFL research purposes." (New studies appear to connect football-related concussions to suicidal behavior)
His ex-wife Gina Seau told the Associated Press that Seau sustained numerous concussions during his career.
"Of course he had. He always bounced back and kept on playing," she said. "He's a warrior. That didn't stop him. I don't know what football player hasn't. It's not ballet. It's part of the game."
Seau was a standout linebacker with the University of Southern California before going to play in the NFL for the San Diego Chargers, the Miami Dolphins and the New England Patriots. He retired after the 2009 season with the Patriots.
NFL commissioner Roger Goodell released the following statement via Twitter:
"All of us are deeply saddened about Junior Seau, a great player loved by teammates who also worked hard to serve his community. Junior and his family will remain in our thoughts."
Back in October 2010, Seau drove his SUV off the side of a 100-foot seaside cliff, just hours after he was arrested for investigation of domestic violence at the Oceanside, CA home he shared with his girlfriend.
Seau — who only sustained minor injuries following the crash — later said he wasn't trying to kill himself, insisting he had simply fallen asleep at the wheel. There was no evidence of drugs or alcohol involved with the crash.
Seau's death follows the suicide last year of former Chicago Bears player Dave Duerson. He too, shot himself in the chest, but he specifically asked that his brain be studied to learn more about football-related damage.
Junior Seau is also incidentally the 8th member of the 1994 San Diego Chargers team to die before the age of 45 years old, joining linebacker David Griggs (1995), runningback Rodney Culver (1996), linebacker Doug Miller (1998), center Curtis Whitley (2008), defensive end Chris Mims (2008), defensive tackle Shawn Lee (2011) and linebacker Lew Bush (2011).
Junior Seau leaves behind three children — 19-year-old Sydney Beau, 17-year-old Jake Ryan, and 12-year-old Hunter Tiaina — and his ex-wife Gina Deboer.
Be the first to receive breaking news alerts and more stories like this by subscribing to our mailing list.