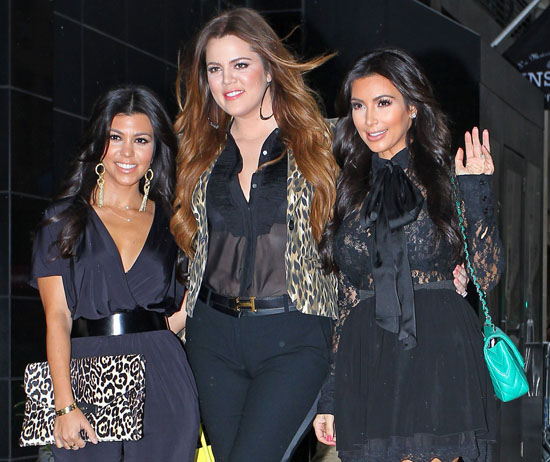 Not just one, but two women who were once married to former Kardashian patriarch Robert Kardashian claims that Khloe isn't even a Kardashian at all.
In an explosive new "report" from Star Magazine, both Robert Kardashian's ex wife and widow claim that the late attorney expressed his doubts about the paternity of his youngest daughter.
"Khloe is not his kid. He told me that after we got married," ex-wife Jan Ashley, Robert's first spouse after Kris Jenner, told Star.
"He just kind of looked at me and said (it) like it was a matter of fact," 63-year-old Ashley said. "He said, 'Well, you know that Khloe's not really a Kardashian, don't you?' And I said …'Okay,' and that was it."
Ellen Kardashian, the woman who married Robert Kardashian just 3 months before he died in 2003 after dating for nearly 6 years, says that Khloe herself even questioned whether or not she was really a Kardashian.
"Khloe brought it up all the time," 63-year-old Mrs. Kardashian told Star Magazine. "She looked nothing like the rest. She was tall, had a different shape, light hair, curly hair. Didn't look anything like the other three children."
Kris Jenner admits in her recently published autobiography to having an "insanely intense affair" with an unnamed younger man while she was married to Robert Kardashian, however she says that was after the birth of their four kids (Kourtney, Kim, Khloe and Rob).
Still, Ellen Kardashian says Robert still questioned whether or not he was Khloe's biological father, and allegedly told her that he and Kris weren't even having sex at the time Khloe was conceived.
"Robert did question the fact that Khloe was his. Any normal man would if they knew their wife had cheated on him," Ellen said.
But don't take everything Ellen Kardashian says as the truth though. A source close to Khloe calls her a "crazy lady," telling the New York Daily News, "This is the same woman who locked Kim, Khloe and Kourtney out of her house and wouldn't let them see their dying father,"
This explosive new report from Star Magazine comes just two years after Khloe jokingly questioned whether she was adopted in a 2009 episode of "Keeping Up with the Kardashians," where she event went as far as to swab her mom's mouth for an on-camera DNA test. (Sidenote: This doesn't count though, since the DNA used was from Kris Jenner and not Mr. Kardashian)
"It's just a long-running joke because she's so much taller. It's always been something she's commented on," the source close to Khloe told the Daily News.
What do you think?
Be the first to receive breaking news alerts and more stories like this by subscribing to our mailing list.