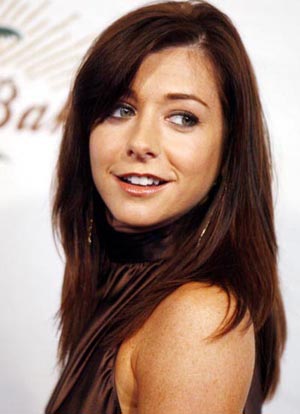 Fans of  the hit CBS sitcom "How I Met Your Mother" already know that Lily (played by actress Alyson Hannigan) is expecting a baby.
But what fans don't know is that Alyson Hannigan herself is also pregnant!
It was announced this weekend that the star is expecting her second child with Alexis Denisof (who she met while she was working on "Buffy" and he was starring in "Angel").
The show's creator Craig Thomas is thrilled that, unlike her last pregnancy, producers don't have to hide a baby bump.
"Everyone at 'How I Met Your Mother' is thrilled for Aly!" Thomas revealed in a statement. "And we'd especially like to thank her for timing this perfectly to Lily's pregnancy on the show!  (Apologies to any HIMYM fans hoping to see another series of awkwardly-placed fruit baskets, bowling balls or purses the size of a small canoe)."
It has been said that the show's season will conclude with the birth of Lily and Marshall's (Jason Segel) baby being born. Since Hannigan is due this summer, life will be imitating art in this case.
Congrats Alyson!
Be the first to receive breaking news alerts and more stories like this by subscribing to our mailing list.