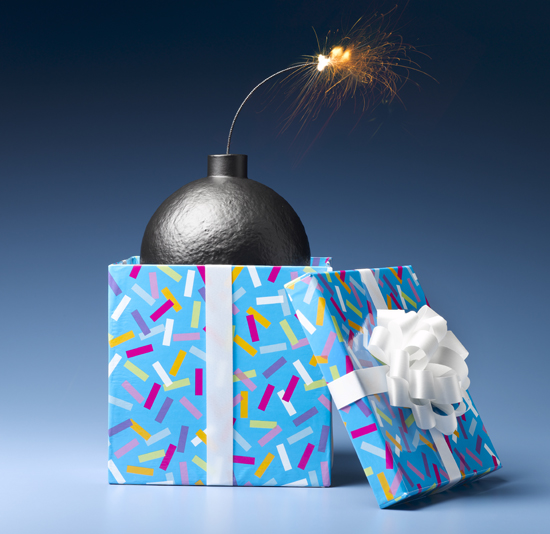 Now this is most definitely taking it WAAAAAAAY too far!!
Okay, get this: A man creates a bomb and puts it in a sex toy he plans on giving to his ex-girlfriend. Luckily, he gets caught and is arrested before he's able to execute. He's now facing 10 years in prison and a $20,000 fine if he's convicted on felony charges.
Read the full story below:
A Waseca man has been charged with felony creation and possession of an explosive or incendiary device and felony terroristic threats after authorities discovered a homemade explosive device hidden in a sex toy.

Terry Allen Lester, 37, faces a maximum penalty of 10 years imprisonment and a $20,000 fine if convicted.

On January 1, Officer Kari Kalow responded to a home in Waseca about a civil matter. According to the woman, Lester had been staying with her and another woman at her apartment, but he was forced to leave when the manager learned about this. He left the apartment on Dec. 31, but left behind some bags. The contents of the bags made the women uncomfortable so they contacted authorities.

The women brought Kalow the container of items, which included a container with the words "Christmas Gifts" written in black marker. One of the women told Kalow that Lester had spoken to them about one of the items. According to the criminal complaint, Lester had made some modifications to a sex toy. He put gun powder, BB shot and buck shot from shotgun shells into one with black and red wires that connected to a trigger with a battery port. There was no battery inside the device.

The complaint went on to say that Lester planned on giving it to one of three women. In each of those cases, the relationship had ended badly. Also left at the apartment were tools used in the construction of the explosive device, including cords, cables, a small tool kit and two other sex toys.

The Bloomington Bomb Squad was contacted by Waseca Police Sergeant Scott Girtler. The squad arrived two hours later and x-rayed the devices after first inspecting them. The first device, the one shown to Kalow earlier, had two wires coming out of it that were connected to what appeared to be a trigger from a cordless drill. The other two devices appeared to be unaltered and checked out. The bomb squad cut into the first device and removed the projectiles and gunpowder, rendering it inert.

Lester remains in police custody.
Wowzers! Some people have really sick minds. SMH…
Your thoughts on this sick guy and what he did?
Be the first to receive breaking news alerts and more stories like this by subscribing to our mailing list.