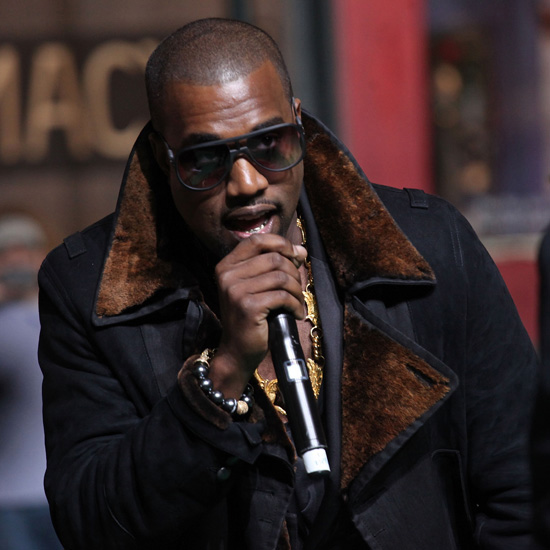 Kanye West hosted an intimate concert for a crowd of 550 people at the Bowery in New York City last Tuesday night (Nov 23). The rapper was joined by Bon Iver, Teyana Taylor, Nicki Minaj, Swizz Beatz, CyHi da Prince, Pusha T, Rick Ross AND John Legend for the show, which was held to promote the release of Ye's new album My Beautiful Dark Twisted Fantasy.
During the concert's final set, Kanye took a little time out to address a few issues, including the ever popular Taylor Swift incident, George Bush, Matt Lauer, his album sales, rumors that he's in the illuminati and more:
To do an album after the year I had ….after all the "Your career is over..die n*gga, die!…You'll never make music again!" and then come back and do 100,000 the first day digitally alone….to be safe and do 600,000 in the tfirst week. I don't talk about the numbers but what that number says is that people want me to keep making music…and for me not to give up. No radio singles, no #1 record, no top 10 record! … I can't be your role model, i can't be your anti-christ. I don't know what the f*ck illuminati is. I like clothes and I still like girls, I dont give a f*ck what you think and on that note. I love ya'll.
Peep the performances below…
And the Taylor Swift, George Bush, etc. rant is even further below…
(*starts out jubilant*)
"To come back and do 100k the first day, digital alone, to be slated to do 600k first week, I don't talk about the numbers but what that number says is that the people want me to keep making music…but I ain't here to do no mf-in politics, Im' here to make music. I'm not here to talk in no interviews, nobody asking me no stupid ass questions. We had such a great win. Matt Lauer is a not a bad guy, I'm sure….But if you're a child that's being abused by your parent, or you're a girl that's being abused by your man, the greatest win you can ever have, is for that person to hit you in public! You see?! You see, I told you!!…."
(*uh oh….this is getting crazy*)

"there was no way for me to justify the way people judged me. When you do things like what happened last year its disrespectful to everyone who's creative! It's a smack in the face of everyone who tries to do something real. If I wasnt drunk I woulda been on stage longer!! Like, am I the only one who's not crazy here?!!! Are you fucking kidding me?? And then they run with it. And don't call me and tell me what I should do. I'm my own man!! Sometimes you scream on a n—a…my bad."
(*collective headscratching, and shifting anxiously*)

"Everyone wants to villainize people, even if you take the concept of George Bush. There's no leader in history that has been villainized in that way, and didn't get killed at war or commit suicide. So anyone that lives thru it deserves one moment of redemption. (light boos) None are without flaw. The shit that people write on blogs is a reflection of what they feel about themselves….that they want to project through the people who are on TV! And now we are a mere surfaces of the energy that they are projecting on us!…."
(*save the people who are TV!*)

"Everyone needs a villain, don't we? We need to blame someone. And for me to be considered a racist for stating a blatant truth, an obvious truth….but the nuances of my words because I am very particular with my words, and the emotion that I felt at that time wasn't worded exactly right. But everybody came and said, 'oh my god!' I'm talking about 5 years ago, I'm not talking about a year ago. I'm talking about Katrina. And everybody said 'oh my god, Kanye, I love you so much. I hated you until you said that. Now you're speaking for me. I always thought you were an asshole but now you said something that represents me.' And the whole time I'm thinking, that's not exactly what I wanted to say. I was emotional. That's not exactly how I wanted to word it. But I rode it, I rode it, just as Taylor [Swift] never came to my defense in any interview, and rode the wave and rode it, and rode it. That's the way I rode the wave of the Bush comment. It's not about popular opinion, it's about when you look in your heart and know what's right and what's wrong…"
("audience heckler: stop while you was ahead, son…*)

"When you look in your heart, look at what the media did. Look at how they exploited [Bush]. They said that he said, it was his lowest moment. And America, we took that as a fact. When you look at that interview, he said it was one of his lowest moments. And he said it about 10 different things. But because of the popularity of me, they exploited that…to make you watch the interview, and make you feel that he was stupider than ever to think that a rapper comment could be his lowest moment. That's not what he f–king said! That's not what he said! He said it's one of his lowest moments. But it shows you the way they try to villain-ize! Everything would have been okay, if they didn't play the audio that day….none the wiser, none the wiser! They played the audio, they fucked up in front of everybody. They fucked up big time. If you a real artist, have no fear! Say what you want, do what you want, make what you want. If its meant to be, the people will stand up, like they stood up for me, 600-thousand, after being the most hated person this time last year!…."
(*oh, that Today Show cabal will rue the day they played that audio. But on the plus side, yes, 600k is a fantastic redemption.*)
Videos Spotted @ Necole Bitchie / Kanye's rant grabbed from Miss Info