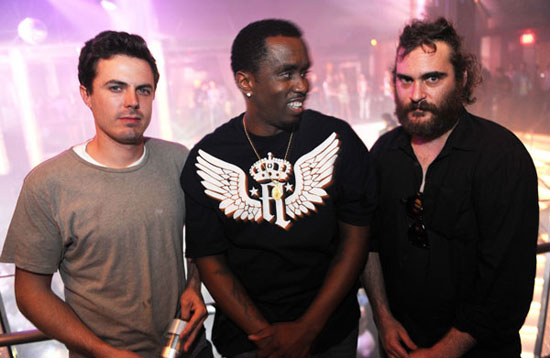 Looks like actor Joaquin Phoenix is dead serious about his "reinvention of himself" as a rapper!
Back in July, Phoenix announced that a movie chronicling his baffling decision back in 2008 to retire from acting and reinvent himself as a rapper will debut in movie theaters in the U.S. this September.
The film, titled "I'm Still Here," is scheduled to be released on September 10th via Magnolia Pictures, who insist that the project is legit and is not a "mockumentary," calling it a "portrait of an artist at a crossroads." It was directed by JQ's brother-in-law, fellow actor Casey Affleck.
Peep the trailer for Joaquin Phoenix's new movie "I'm Still Here" (which features a cameo from Hip-Hop mogul/rapper Diddy) below:
So dude is really trying to be a Hip-Hop star now, huh? We can't wait to see how this plays out!!
Your thoughts?
Be the first to receive breaking news alerts and more stories like this by subscribing to our mailing list.