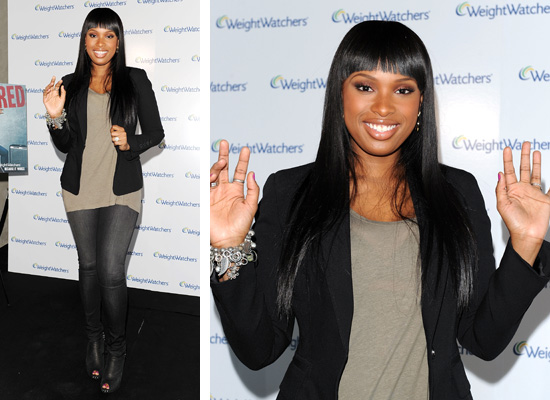 Singer/actress Jennifer Hudson showed off her new, slimmed down figure Thursday (Apr 1) as she launched her national advertising campaign with Weight Watchers at the Glass Houses Thursday (Apr 1) in New York City. J Hud is the new spokeswoman for the company. Click here to check out their official website, newly re-branded with new images of Hudson.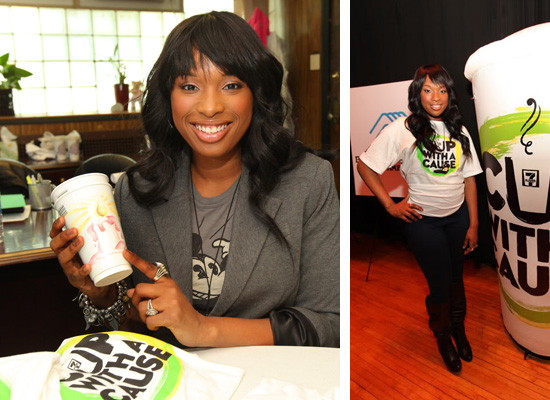 The day before, (Wed. Mar 31), the "Dreamgirls" star spent some time at the Louis L. Valentine Boys & Girls Club in her home town in Chicago, where she kicked off her new "7-Eleven Cup with a Cause" cup. While there, she spoke to reporters about her upcoming wedding and how her 7-month-old son David Daniel Otunga Jr. is doing.
Jennifer Hudson's fiancé, David Otunga, may be busy pursuing a pro wrestling career with World Wrestling Entertainment, but she said the former "I Love New York" contestant is still doing his part to plan their upcoming wedding in Chicago. Sort of. "He's like, 'OK baby, whatever you say,' " Hudson said about Otunga's contribution to the wedding planning process during an appearance at the Louis L. Valentine Boys & Girls Club of Chicago on Wednesday. "It's like 'You need to be involved.' I guess that's their role."
Check out 10+ pictures of Jennifer Hudson at the debut of her national advertising campaign with Weight Watchers and at the Boys & Girls club in Chicago below, and continue reading for more on her wedding and her son…
Hudson, who was at the Bridgeport club promoting a coffee cup she designed for "7-Eleven Coffee Cup with a Cause" (proceeds benefit the Boys & Girls Clubs of America), didn't provide details about the wedding date or location. But she did say the planning process has been stressful. "The bride is always the go-to person," said the Chicago-native. "It's like 'If you ask me another thing to figure out for the wedding, I'm going to go crazy.' " In addition to the wedding, working on her second album and preparing for her role as Winnie Mandela in the movie "Winnie," which begins filming in Johannesburg, South Africa in less than a month, Hudson has her hands full with her seven-month-old at home, David Daniel Otunga Jr.

"He's such a joy and that's an understatement," said Hudson, who lives in Tampa. Fla. "Just the light of my day. The best baby in the world. I'm enjoying every minute of it and I'm getting more and more attached every day." The 28-year-old singer/actress stressed the importance of pursuing dreams while speaking to the children in attendance Wednesday and repeated the message when discussing her fiancé's eccentric career choice with media. Otunga can be seen on SyFy's "WWE NXT," a partially scripted reality show which features aspiring WWE superstars.

"Of course it makes you nervous," she said about watching Otunga wrestle. "It's all about pursuing your dreams and goals. And I'm for anybody who wants to do what they want to do."

Hudson's cup will be available at 7-Eleven stores nationwide through May 31 or while supplies last.

CHICAGO TRIBUNE

Be the first to receive breaking news alerts and more stories like this by subscribing to our mailing list.