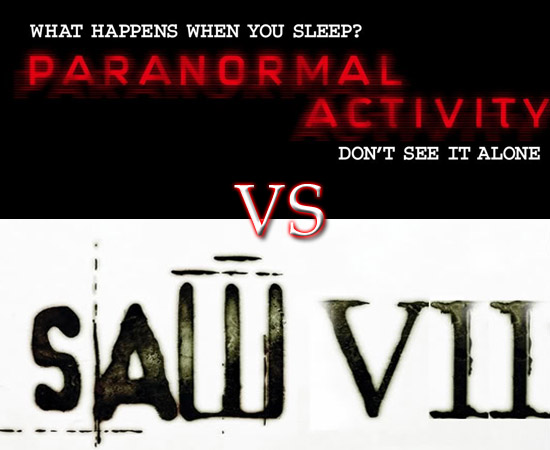 Get ready for another box office showdown this Halloween. Paramount has announced that they are committed to releasing "Paranormal Activity 2" on October 22, the same day that "Saw VII 3D" will see its release. These two franchises have already battled at the box office once. Last year, the marketing geniuses behind "Paranormal Activity" drew up a frenzy amongst viewers through its viral-marketing campaign and as a result, it easily passed "Saw VI" at the box office by $7 million, though it only showed in 1,945 theaters in its fifth week. It went on to gross a worldwide total of $192.7 million.
So, come October 22, which film will you be seeing? Though "Paranormal" showed to be a box office hit, many people, including us, were highly disappointed by the film (there were more laughs and teeth sucking coming from the theater than actual screams). But the "Saw" franchise has always been a box office hit and has a loyal following. Not only did the last film touch immensely on the issue with health-care on insurance companies, but the very surprise ending left viewers in shock. Not to mention that with this seventh, and what was supposed to be the final, installment being released in 3D, it could have a slight advantage over its rival.
As for us, we're gonna go with "Saw VII." Which will you be seeing?
Be the first to receive breaking news alerts and more stories like this by subscribing to our mailing list.