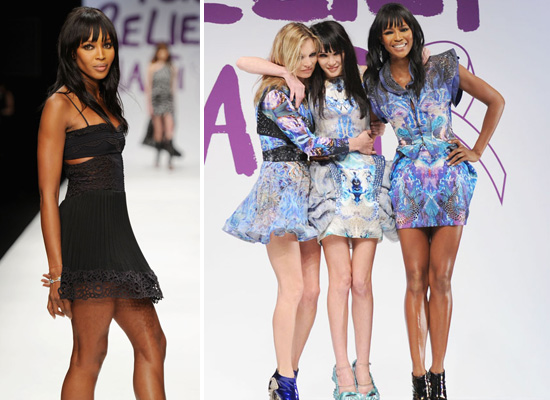 Super model Naomi Campbell kicked off London Fashion Week yesterday (Feb 18) with her second "Fashion for Relief Haiti" runway exhibit. Click here for pictures from her first Fashion for Relief show, held last Friday (Feb 12) in New York City for Mercedes-Benz Fashion Week 2010.
Campbell, with the help of her friends Kate Moss, Geri Halliwell, Alexandra Burke, Beverley Knight and even Mr. Hudson, paid tribute to Alexander McQueen all the while raising funds for Haiti relief.
The big fashion show was followed by an auction on the pieces that were presented on the runway. According to the the Daily Mail, Kate Moss broke down in tears as the dress she modeled was sold for £100,000 (about $154k USD).
Campbell said it was a cause dear to her heart, adding: "I am deeply saddened by the recent tragedy in Haiti. So many have been killed and severely affected by the earthquake – women and children in particular are most vulnerable in disasters. Fashion is universal, personal and touches everyone."

SOURCE

The fashion event raised over £1 million (about $1.5 million USD), with more to come in later from an ongoing online auction. Check out 10+ pictures of Naomi, Kate and everyone else ripping the runway for Haiti in London below and when you continue reading…
PHOTOS: GETTY IMAGES / WIRE IMAGE