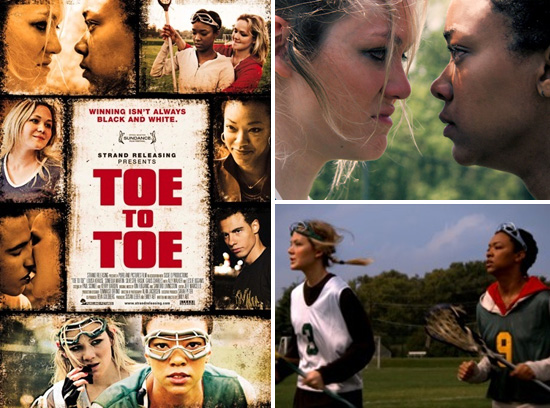 At a politically correct prep school in Washington DC two girls – one black, one white – go "Toe to Toe."
Jesse (Louisa Krause) is a privileged but troubled white girl whose slutty tendencies pull her towards self-destructive behavior. And Tosha (Sonequa Martin) is a fiercely determined African-American from Anacostia, one of D.C.s most impoverished areas. Both new seniors and star players on their schools lacrosse team, the two girls click despite their differences.
Their fledgling friendship begins to falter when they discover their shared interest in Rashid, a dashing Lebanese deejay. Things unravel further when Tosha and Jesse have a shoving match on the lacrosse field and racist graffiti appears on Tosha's locker soon after. Jesse is expelled from school and spirals deeper into self-destructive behavior. Surprisingly, it is Tosha who comes to her rescue. Jesse then returns the favor by sacrificing her own well being for that of Tosha's. And so the two girls, once mired in mutual hatred, become each other's salvation.
Toe to Toe hits theaters February 26, 2010. Check out the trailer below…
Be the first to receive breaking news alerts and more stories like this by subscribing to our mailing list.