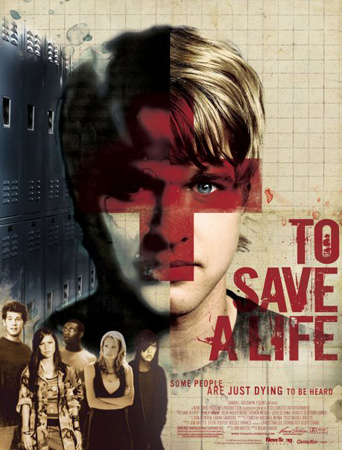 Director Brian Baugh has teamed up Writer Jim Britts to give the world To Save a Life, the story of a high school athlete whose life faces a dramatic change when the suicide of a childhood friend opened his eyes to the realization that the pains of popularity that rules the high schools social rankings are no longer worth the price of admission.
Check out the trailer below!

I'm not gonna lie this one took me by surprise, but I can truly appreciate the concept.  I had a friend in high school who was the weird, outcast, suicidal type and of course I had to be his o-n-l-y. He was the double jointed always stretching type and everyone thought he was gonna blow up the school or something. Go figure. One day he just stopped coming to school and was never heard from again, no surprise there huh?
But back to the saving lives, young and rising actors Sean Michael (Akeelah and the Bee), Arjay Smith (The Day After Tomorrow) and Randy Wayne (The Haunting of Molly Hartley) star in this emotional adaptation. Showing that no matter how out their someone is a life is a life all the same.
Look for  To Save a Life in theaters January 22, 2010.
Words by: Dwayne Gross
Contributing editor for Gossip On This
Be the first to receive breaking news alerts and more stories like this by subscribing to our mailing list.