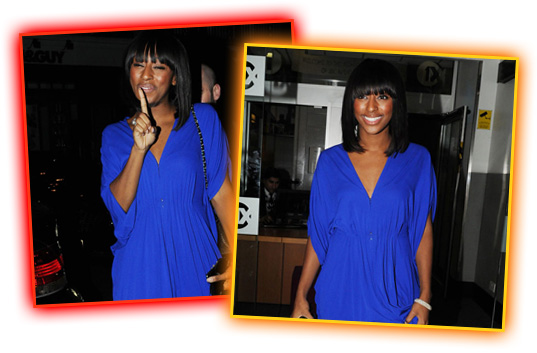 "The X Factor" winner Alexandra Burke walked out of BBC Radio One studios over in London, England Sunday (Oct 18), and for good reason too! "Bad Boys," the lead single for the Pop/R&B singer's debut album Overcome is currently sitting in the No.1 position of the U.K.'s singles charts, beating out fellow UK singer Robbie Williams. Alexandra's "Bad Boys," which features rapper Flo Rida, sold 187,100 copies, whereas Robbie's "Bodies" sold less than half of that (89,238 copies).
Funny thing is, this accomplishment is actually going to hurt Burke's pockets a bit. She bet X Factor judge Simon Cowell £1000 (about $1600 USD) that she wouldn't go to No. 1 because Robbie Williams (an established artist) was coming out with his new single the same exact week.
"Simon Cowell was adamant that she could beat Robbie, but Alex wasn't having any of it. She thought how on earth could she beat someone who had so much success in the past. So when she discovered that she had, she was overwhelmed with excitement – and then she remembered her little bet with her boss."
Alex reportedly got Simon to match her donation, making it 2000 (about $3200) and the money will be donated to Battersea Dogs & Cats Home, which was a suggestion from Simon.
"Alex has been saying she wants a dog. But Simon, who has a soft spot for pooches, reckons it's not fair because she's away so much. Alex has come round to the idea and now she is at No.1 her cheque book is ready."
Be the first to receive breaking news alerts and more stories like this by subscribing to our mailing list.