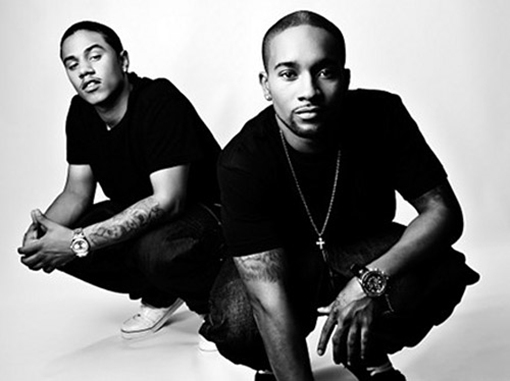 If you didn't already know, Lil Fizz and J Boog (formerly of B2K) changed their names to "Fizz and Boog" and are now a duo working on some upcoming projects. They premiered their music video for their first single "Bounce" earlier this month in support of the straight-to-DVD film "Bring It On: Fight to the Finish" and to promote their upcoming debut album, Nightlife.
In a recent interview with Bossip, the pair spoke candidly about Omarion, Raz B f**king up their money, and their past lives as B2K stars.
Bossip: Now let's dip into some past events… When Raz B first came out saying this stuff about Chris Stokes, what was your reaction to all this?
Fizz: We were completely in awe, because at that moment we were actually shooting a reality show that was getting picked up by WB. I was actually out of town in New Orleans at the time for Christmas with my pops. Boog was out in LA and he called me like: "Yo did you see this video on Youtube?" And I'm like, "what?" Boog said, "Yo, just go look at Raz on Youtube." I couldn't believe my jaw dropped, I was just like what?… Like, why come about it this way, if this is what really happened to you, why would you announce it to the world like this, why wouldn't you go and handle this and yourself in a more appropriate manner? Especially if we got this reality show going on that's about to get picked up by WB. You know what I mean?

Boog: He kind of did a suicide bomber on us.

Bossip: What reality show were you guys filming, what was it for?
Fizz: It was the B2K reality show without Omarion. It was us three coming back as the group without O, but unfortunately it didn't work out because of that.

Bossip: That was a big bomb, that was a big money bomb.
Fizz: Everything happens for reason, though, I think it really set up this project for me and Boog to do Nightlife. This project has been going like super great, I've never been a part of something like this since B2K had first started and everybody's supporting us, everybody's behind us 100%. Everybody loves the music, loves the video, they just get the whole vision that we're trying to do. And it comes from the chemistry. Boog and I, we've been best friends since we were 12 years old. We know the business, we know each other. The vision that we are trying to get across, it's gelling, it's really working.

Boog: When this happened, we weren't around each other for like 3 ½ years. Raz was kind of like a stranger to us, we didn't really expect or know what he would pull off….we were like fans in a sense because we seen it when everybody else seen it like huh?
Bossip: Raz retracted his statement, so when he retracted his statement what did ya'll think about that?
Boog: I just thought that the whole sh*t, I'm sorry, the whole situation was just foolish. It was childish. I'm like what is going on, what are they doing? That was just my whole outlook on it, like, what is this? Why, I didn't get it, I was lost with it all. Like, these guys is clowns, I think the whole world looked at them as clowns……

Bossip: What about his brother, because once Raz retracted his brother came out and was like no, this is true, so I guess what I'm asking is… where did his brother fit in to this whole picture? Was he around a lot?
Fizz: No he wasn't really around at all but that was somebody that Raz kept in touch with. I guess they had their side agendas.

Bossip: Do you guys still speak to Omarion or is it bad blood?
Fizz: No.

Boog: We've had our times when we tried to keep everything together but we just all decided that it would probably be best to just remain cordial and just leave it at that…

Bossip: With you guys doing your own project Nightlife and everything's booming. What did you guys think when you heard that he [Omarion] signed with Young Money and then a couple months later got dropped?
Fizz: I really don't know what to say. You have to be smart about your situation, to me… [your] not supposed to be looking too inconsistent. I mean the public doesn't really… I know I don't understand it. I don't understand how you can just keep walking out of situations like that, you know. I don't really get it if you ask me. I've never seen an artist being able to walk out of two situations in one year.

Boog: Only thing I can think of and I'm gonna have to shoot straight on this one. It's been five years, me and Fizz have been hustling on the streets trying to make sure we can feed our families, keep a roof over families heads. That's just how I look at it, you can quote it as Boog's statement if you choose. God works in mysterious ways, he gives you a window of time to do what you're going to and do the right thing and your window closes at a certain point and once it's closed, it's closed. And that's just where I feel the kid's career is at, his window has closed and I really think that there isn't anybody that sees any point in investing any more money into that situation.

Bossip: You have a new video out called Bounce… How did you guys end up doing the song for the movie Bring it On: Fight to the Finishstarring Christina Milian?
Fizz: Actually a good friend of ours, from back in the day in the business, he actually was putting together the soundtrack and he reached out to us and asked us if we had any records that we would be interested in putting out as a single. We met with him, we played him like 10 records, Bounce happened to be one of them, he loved it he was like, "Yo I think we should go with this one." So, he put it into works and it happened.

Bossip: Are you guys working on your own album right now and when can your fans expect for this album to drop?
Boog: Yeah… Well, the title of the album is NightLife. And the EP will actually be available on i-Tunes, September 29. And then we gonna put the actual physical
in stores, November 17.

Bossip: With your fans, Do you still feel the love from your B2K days, or do you guys think you have developed a completely different fan base now?
Fizz: I think that we will have a big following from B2K, because B2K was a group that had individual fans , each member had their own set of fans, so I believe that all the Fizz and Boog fans, some of the other fans will hop on board with the new project, but I believe that the sound is way different than B2K and the movement and the concepts, everything is different so I believe that we will gain a older audience along with those old B2K followers.

Bossip: Do you feel that the transition is going to be hard… going from being a child star to having the same success now that you are older?
Fizz: I think a lot of the problem with kids growing up that have early success in their career is that they get caught in the machine and when I say get caught in the machine, they have no control. The machine wants to continue to put products that were similar to the things that they did when they were younger which means they can never transition over. It has to do with the lyrics on the song evolving, the subject matter evolving, the image evolving, the artist mentality and demeanor in interviews. It's a lot that goes into transitioning from a kid star to an adult star. I think that's what the five year break gave us… a chance to sit back and really witness what was going on and acknowledge the reality of where we were in our career and what it would take for us to have a real comeback.

Bossip: I was reading up a little bit on you guys, I see you guys formed Popular Entertainment. Now what's going on with Popular Records and Popular Films? Have you guys signed anybody besides yourselves?
Fizz: We have two acts. We got one other duo and a young rapper. It's something that we always wanted to do. This is something that we discussed a long time ago even when we were in the group. We were always saying that when the groups time is up and it's time for us to move on we wanted to start a label. We look up to people like Puffy, Jay Z, Barry Gordy, LA Reid, etc. All these business men are behind the scenes, so it's something that we always wanted to do. So when we got a chance to do it, we formed Popular Entertainment, signed us some acts.

Bossip: You guys did the move You Got Served, and that grossed over a hundred million dollars, so getting into the movie game makes sense. How are you going to move forward with making you own movies?
Boog: Popluar Films represents directors, photographers, screen writers. We've been putting together movies right now and it's all in house, so were gonna have our own directors shoot it and everything it's gonna be crazy.
Be the first to receive breaking news alerts and more stories like this by subscribing to our mailing list.