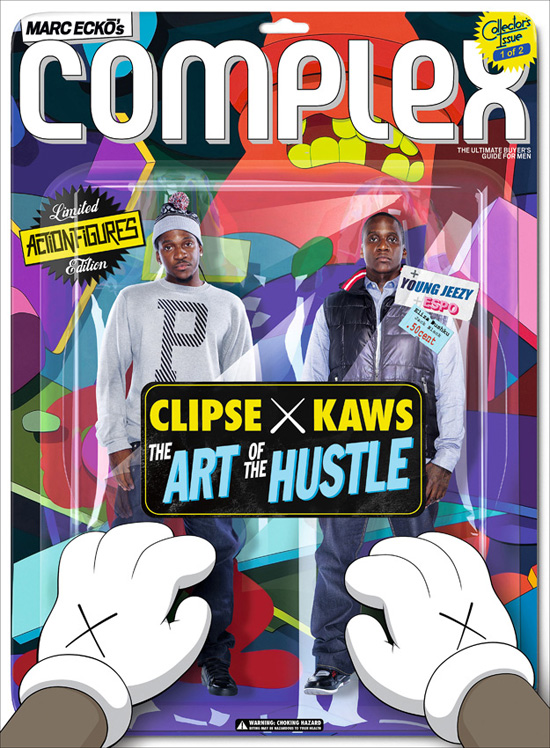 Complex Magazine has been releasing different covers every day this week to celebrate their October/November 2009 issue, set to drop on newsstands everywhere on October 6th. Above is Clipse's action figure inspired cover, designed by art icon KAWS, who frequently collaborates artistically with the hip-hop duo.
The guys talk about staying away from going commercial, setting trends, accomplishing goals and more in the upcoming issue…
Is there any push to become more commercial this time around?
Pusha: I don't think so. Sonically, we always go above and beyond in our efforts to disrupt radio. It's always about being different. Our radio is never conventional anyway. "Grindin'" — no hook, but big record. "Mr. Me Too" — very minimal.

Malice: "What Happened To That Boy."

Pusha: Yeah, you know. We're always about being different. I like to call this album hip-hop on steroids, because everything is to the third power. The flow, the sound, everything is just in your face, and driving.
I remember you guys coming to St. John's University years ago, maybe '04; you were wearing Bapes and no one knew what it was. I was in the crowd, and all you could hear was, "What the fuck are they wearing? What's that T-shirt? What's that sweatshirt?" And then two years later, the shit explodes.
Pusha: And then you start getting online, and then you start seeing what the hypebeast types are into. They were the ones who sort of nudged us in that direction. It was like, "Wait a minute. Y'all pay this much attention? This much?" We had to.

What's the goal? What's the promised land for you two?
Pusha: Being successful enough. Just having enough success to keep myself and everything around me happy. I don't know if that comes in a number, I don't know if that comes in a plaque, I don't know what it is. If I can keep me and the crew around me happy, stable, and out of jail, then we good.
Do the fans play into that at all?

Malice: Fans are everything. Fans are everything.

Pusha: If they're satisfied, they can keep everybody else satisfied, happy, and free.

Malice: For me it's being able to look back at the body of work, and knowing that I stand behind it, being true to myself. The creativity that we have and the artistic value of our music, that's what keeps us around. We may never skyrocket over the top, but…

Pusha: We sold platinum before. Just not millions and millions and millions.
Hit up Complex.com for the rest of the interview!
Be the first to receive breaking news alerts and more stories like this by subscribing to our mailing list.