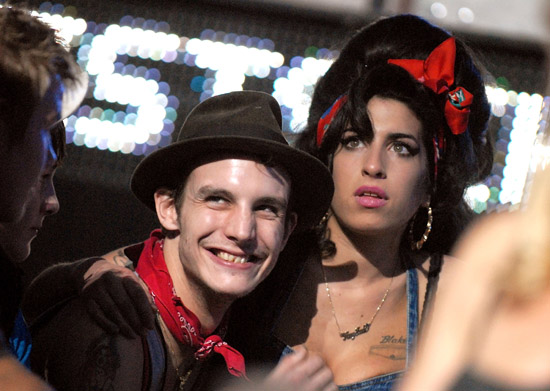 The Holy union between British singer Amy Winehouse and her now ex-husband Blake Fielder-Civil is officially over. The two coke fiends were granted a divorce by a judge in London. A judge read out the decree aloud at a brief Family Court hearing Thursday (Jul 16), of which neither 25-year-old Winehouse nor 27-year-old Fielder-Civil attended.
The two had been married since 2007, but Blake was arrested six months later and charged with assault, which landed him some prison time. He filed for divorce earlier this year due to Winehouse stepping out on him.

Winehouse's father, Mitch Winehouse, has frequently accused music video production assistant Fielder-Civil for introducing his daughter to hard drugs, and the couple's up-and-down relationship made for plenty of tabloid headlines. Winehouse mined her misery over Fielder-Civil's early abandonment of their relationship for material on her multi-Grammy-winning breakthrough Back to Black, crying in her beer on songs including the album's title track. In interviews, Winehouse frequently spoke of her breathless love for her often disheveled Blake, and the couple appeared inseparable during the international promotional blitz for Black that made Winehouse a household name.

In addition to the reported drug use, Winehouse was famously caught on video carving the words "I Love Blake" into her stomach with a shard of glass, and during an interview with Rolling Stone magazine, she displayed photos of the couple passing pills to each other with their tongues.

But the Sid-and-Nancy-style love affair was also accompanied by photos of heated arguments that ended with both sporting bruises and scratches, as well as an arrest in Norway in October 2007 for marijuana possession; the couple were released with a fine. Just months after the wedding, Fielder-Civil was arrested on charges of suspicion of attacking a bar landlord and attempting to bribe him to drop the allegation. Following his incarceration, Winehouse was frequently seen wandering the streets of her Camden neighborhood in a daze, and she subsequently canceled a U.S. tour.

Fielder-Civil was released from prison in February and shortly after filed for divorce on claims of Winehouse's infidelity; she acknowledged adultery and said she would not contest the divorce. The AP reported that the divorce papers filed with the court stated that he found living with Winehouse "intolerable."
Winehouse recently returned to England after several months of living on the Caribbean island of St. Lucia, where she was reported to be working on the long-awaited follow-up to Back to Black.

SOURCE: MTV
Let us all have a moment of silence for Amy and Blake's failed marriage. These two were the white Whitney and Bobby, but on a much larger scale. MUCH larger. Okay, we take that back. Whitney and Bobby didn't have SH*T on Amy and Blake!
Be the first to receive breaking news alerts and more stories like this by subscribing to our mailing list.