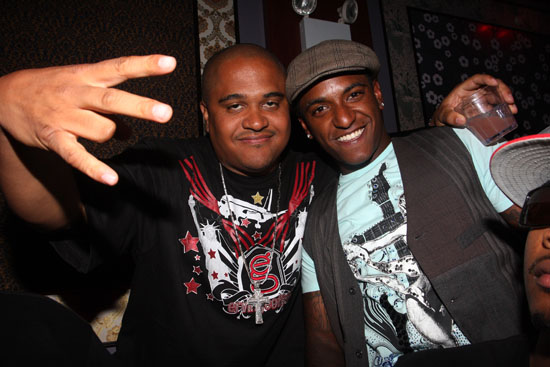 R&B singer Lloyd says that he's "ready for a change" and has taken steps to distance himself from The Inc. after a 5-year run with the now troubled record label, who recently announced that Ashanti was no longer a part of the imprint.
"I'm ready for a change," Lloyd said in a statement released to the press. "There's no bad blood. I just feel I need to take more control over my career and get a fresh start. Hopefully Irv can understand my position."
Lloyd's manager Henry "Noonie" Lee also spoke on the situation expressing his frustration and confusion with the label saying that their current situation is ruining the progression of his brand.
"We find ourselves in limbo for the second time in three years. It's frustrating to know that opportunities to advance Lloyd's career are out there but we can't exploit them due to our current situation. Even though Lloyd is appreciative of the opportunity that has been afforded him by The Inc., he feels it's time for him to move on and seek opportunities that will allow him to build and enhance his brand."
Lloyd spoke to MTV News last Thursday (Jun 11) saying that he's not blaming the decision to leave the label on album sales.
"I'm not blaming it on album sales. I'm more focusing on just growing in general," he described of his goal. "There's a lot that's yet to be done on our part that we would like to experience, and I think that as far as my relationship with The Inc., it's run its course and they've basically done all that they can do for me at this point."
And to make matters worse, he hasn't had a face-to-face meeting with the label's owner, Irv Gotti, in over a year! Gotti saw the press release the same time everyone else did, even though the two of them had been communicating back and forth via e-mail.
"I feel like sometimes instead of the old-fashioned steps of 'let's talk,' maybe I'll just let people know how I really feel because I've been talking since I was 18," he said. "I'm not gonna say it's gotten lower because that would be a silly thing to say because I've come a long way. But I think that at this point I'm done talking about it. Sometimes I don't wanna talk. I just wanna do, get out there and do it."

"What I know, is that it's evident of the times that record labels and artists don't have the same relationship as they once did," he explained. "I'm not speaking as far as actually putting out the record is concerned. I'm speaking more in terms of productivity with that artist, with the project. When I first came in Murder Inc., it was kind of a record company and a production company. There was a lot of producers working. But now, it's not like that. There's no production coming out of the camp. That leaves me no music, which ultimately has forced me to become a lot more self-productive, like with Street Love and Lessons in Love.

"I was doing most of the production myself and the arrangements of the music was basically just me and my friends, my team, in Atlanta," he added. "I didn't really see where The Inc.'s involvement was in the project besides just kinda like being a name."
Irv Gotti himself reached out to MTV News and said that he was confused, because yes, Lloyd claims that he needs more creative control, but then he says he needs more support from the label. But regardless, Irv isn't exactly opposed to letting Lloyd go and do what he has to do with his career.
"He is still signed with Murder Inc. and I will make a decision shortly on what I am gonna do with him," Gotti responded in a statement he sent to MTV News. "His last record didn't sell well at all. And, once again, he had his CREATIVE freedom to do whatever he wanted to do. But for some reason the people did not respond to the album or to him. But I will decide what I wanna do! As always when it comes to me, it's Murder For Life! And anyone who doesn't wanna be a part of that, I will take into consideration."
SOURCE: MTV
Be the first to receive breaking news alerts and more stories like this by subscribing to our mailing list.