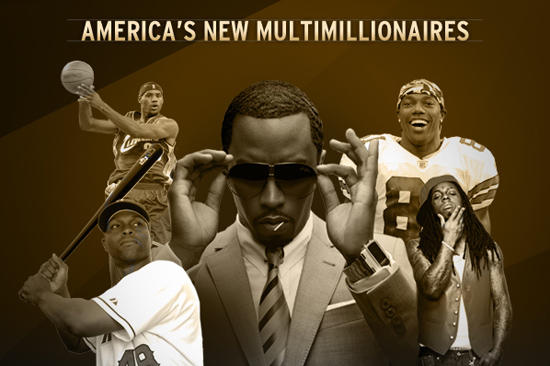 Lee Hawkins from the Wall Street Journal and CNBC will host a new television special entitled, "Newbos: The Rise of America's New Black Overclass," where they will discuss how self-made black multimillionaires, who for the most part grew up poor, have made vast fortunes in the sports, entertainment and media industries. What is a NEWBO, you ask? Read below and hit the link for more!
The new moguls made their millions under the age of 40, primarily by taking more ownership and control over their brands than their predecessors. Collectively, black athletes in the NFL, NBA, and in Major League Baseball earned nearly $4 billion last year and the nation's 20 highest-paid hip-hop entrepreneurs brought in more than $500 million. Now, with their newfound wealth come responsibilities to their family, friends, and community.

Based on Lee Hawkins' forthcoming book of the same title, NEWBOs: The Rise of America's New Black Overclass examines the growing responsibilities of black celebrities in the Obama age. The project features personal stories and interviews with some of the biggest names in sports and entertainment. It's an inside look into how each successful NEWBO surmounted challenges to achieve the American Dream.
SPECIAL PREMIERES TOMORROW (THURS. FEB. 26TH 2009) AT 9 PM ET / 10 PM PT

Be the first to receive breaking news alerts and more stories like this by subscribing to our mailing list.