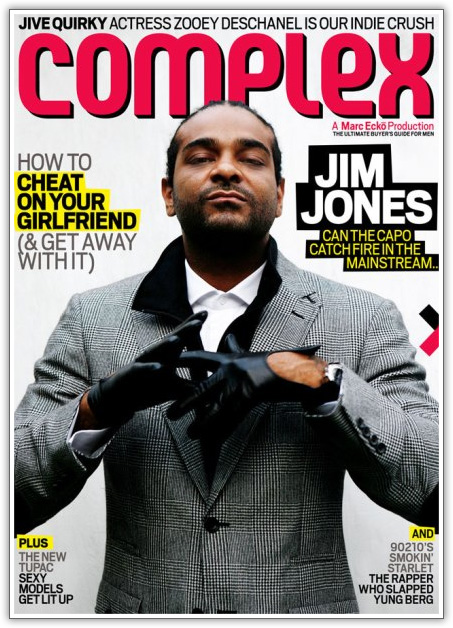 Jim Jones Covers the December/January issue of Complex Magazine. In the issue Jim Jones talks His acting career, New York Rap, Cam'ron, 50 Cent and of course Rocafella. Peep some of the interview below.
You hear it all the time, but NY rap is still not back to being at the forefront of rap. Who else would you enlist to bring the game back?


Jim Jones: Without my own personal hatred—I got to put all my feelings aside—to bring NY back properly, I would definitely put the Lox as a whole. Definitely 50. I f*ck with 50, and beyond everything we got a mutual understanding. I think we think alike in some ill twisted way. But, it's still aggressive competition above all, because we all trying to eat out the same pot.

So even with personal hatred aside, Nas and Jay are still not on the roster?


Jim Jones: To bring New York back? Sh*t, why they ain't bring it back already? It would've been back. I didn't even think about them. The integrity of their music right now is not where we come from any more. Nas is still stuck in Africa, and Jay is talking about way too much money and Merrill Lynch talk and shi*t like that.
More from the interview and pics after the jump!
You've said that there's no more Rocafella, but Kanye has had great success, and he still claims the Roc.

Jim Jones: I don't know if he's actually with Jay-Z from the looks of things. From what I've been seeing from since we were signed until now, I think Kanye actually hates Jay-Z. [Dame Dash interrupts:] No, he actually does. He hated Jay-Z ever since he wouldn't give him a f*cking Rocawear chain in Chicago! I'm telling you.

Jim Jones: I don't know if the song "Big Brother" was correct, but he might've hated him since he didn't give him those tickets to Madison Square Garden.

Damon Dash: This was before that. He was already in full hate by that time. [Laughs.] This nigga [Kanye] was like, "Wow, he ain't going to give me the chain." I had to take off my chain and give it to him, and I was heated. I had the real canary diamonds. That sh*t cost $40,000! I told Kanye, "Yo, you got to give that back when we get off this stage!"

Jim, do you have any theories?

Jim Jones: Jay never sells as much as Kanye. Jay-Z wishes he could sell as many records as Kanye. So he's only beating him with terrible swag. Like over there, their swag is terrible. They having a terrible swag contest. It's really bad over there.

You warned Kanye to keep your name out of his mouth after he said some things about you and Juelz closing Summer Jam. Would you ever fully go at him?

Jim Jones: Kanye?! I like making jokes about him, but Kanye is somebody you can just punch his chest old-school style, cave his chest in and shit like that. Like don't ever, ever, ever talk about me again in your life! It's just a joke to me. I'm just having fun. I heard him ranting and raving about my name and shit. How would I look having an issue with Kanye? I'd love to work with him. I need a beat from him. I think that's why I'm most mad. Matter fact, I'ma f*ck you up if you don't give me a beat! [Laughs.]
Be the first to receive breaking news alerts and more stories like this by subscribing to our mailing list.