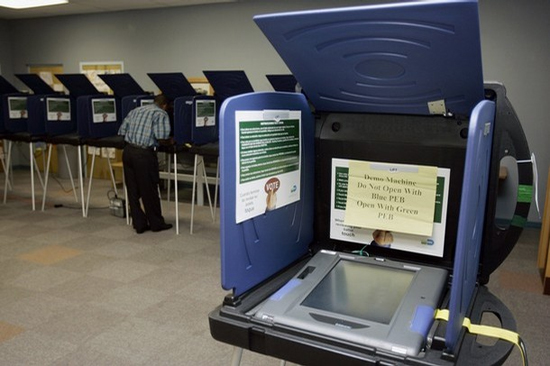 With the election less than two weeks away, I believe it is time to introduce something new to GOT, and we are going to appropriately borrow a little slang from our friends over at Globalgrind.com and call it "politricks!" Because that's exactly what they are: tricks from politicians and supporters alike who want nothing but failure for the Democratic party in this year's election. Let's face it: at this point, if everyone goes out and votes like they're supposed to, a black man is going to be in office. And that scares people. It scares people to the point where they (and when I say they I mean THEM – the Republicans) will go as far as sabotaging an election.
Three Putnam County voters say electronic voting machines changed their votes from Democrats to Republicans when they cast early ballots last week. This is the second West Virginia county where voters have reported this problem. Last week, three voters in Jackson County told The Charleston Gazette their electronic vote for "Barack Obama" kept flipping to "John McCain".

In both counties, Republicans are responsible for overseeing elections. Both county clerks said the problem is isolated. They also blamed voters for not being more careful.
"But we haven't had any major issues. We try to explain to voters how the machines work then they come in," Wood said. In Putnam County, early voters have the option of asking for either touch-screen machines or optical scan ballots — paper ballots on which people mark in their election choices. Wood said some voters might not realize that touch-screen voting machines may take a few seconds to record their choices.

"People make mistakes more than machines," said Jackson County Clerk Jeff Waybright. Shelba Ketchum, a 69-year-old nurse retired from Thomas Memorial Hospital, described what happened Friday at the Putnam County Courthouse in Winfield. "I pushed buttons and they all came up Republican," she said. "I hit Obama and it switched to McCain. I am really concerned about that. If McCain wins, there was something wrong with the machines. "I asked them for a printout of my votes," Ketchum said. "But they said it was in the machine and I could not get it. I did not feel right when I left the courthouse. My son felt the same way.

"I heard from some other people they also had trouble. But no one in there knew how to fix it," said Ketchum, who is not related to Menis Ketchum, a Democratic Supreme Court candidate. Ketchum's son, Chris, said he had the same problem. And Bobbi Oates of Scott Depot said her vote for incumbent Democratic Sen. John D. Rockefeller was switched to GOP opponent Jay Wolfe. "I touched the one I wanted, Rockefeller, and the machine put a checkmark on the Republican instead," Oates said of her experience Thursday.

She said she caught the mistake, called over a worker in the county clerk's office and was able to correct her vote. But she worries other voters may not catch such a mistake. When asked if she is sure she touched the box for Rockefeller, she said, "I'm absolutely positive." Putnam County Clerk Brian Wood said on Saturday that he is upset there are "so many negative stories out there and not enough positive ones. We want people to vote. People need to know the facts.
A major shout-out goes to loyal GOT reader KC for bringing this to our attention! If you know of any polling places inventing little tricks to sway the popular vote to the "other side" or if you notice any unfair laws, or just anything that doesn't make sense or makes you wonder … feel free to hit us up! Gossiponthis@gmail.com
Be the first to receive breaking news alerts and more stories like this by subscribing to our mailing list.