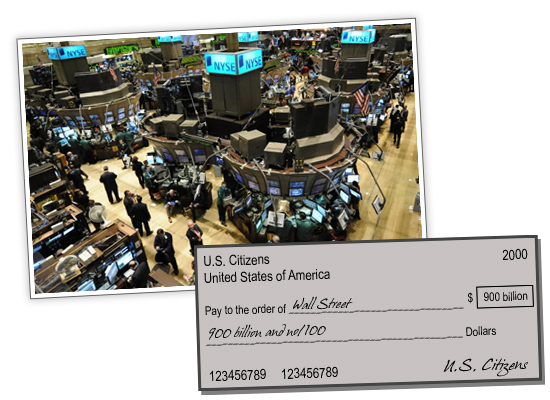 Let's take a short moment out of our daily gossip reports to talk about something that effects nearly 60% of the readers who visit GOT daily. Congress is currently debating a decision to bail out struggling Wall Street banks. This decision will cost Americans $700 billion. Republicans and liberal Democrats are for it, saying that this bail-out will "help keep the crisis in our financial system from spreading throughout our economy." Federal Reserve chairman Ben Bernanke also supports the bailout bill, stating that, "this legislation should help to restore the flow of credit to households and businesses that is essential for economic growth and job creation, while at the same time affording strong and necessary protections for taxpayers," he said in a statement.
But will this really help? Is this a short-term fix that will possibly blow up in the face of our future president later on down the road? Are they just patching up the problem temporarily? Should we, as Americans, write the government a check for $700 billion to fix mistakes caused by 8 years of the George W. Bush administration?
[poll id="64″]
Be the first to receive breaking news alerts and more stories like this by subscribing to our mailing list.