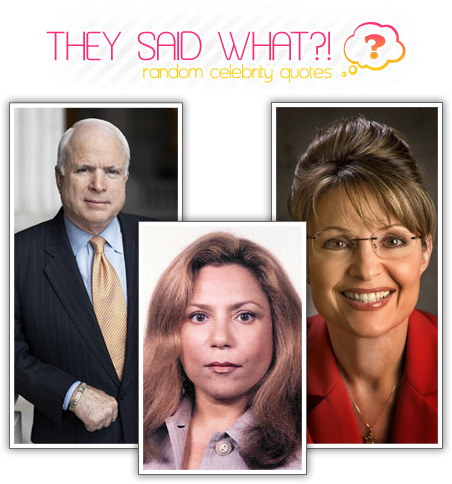 DIDI LIMA ON WHY SHE THINKS HISPANICS SHOULD NOT VOTE FOR BARACK OBAMA »
"We don't want (Hispanics) to become the new African-American community," Lima the Hispanic community liaison for Republican John McCain's presidential campaign told The Associated Press. "And that's what the Democratic Party is going to do to them, create more programs and give them handouts, food stamps and checks for this and checks for that. We don't want that."

"I'm very much afraid that the Democratic Party is going to do the same thing that they did with the African-American culture and make them all dependent on the government and we don't want that," she said.
JOHN MCCAIN AND HIS ADVISER LET AMERICANS KNOW HE DOESN'T "PHONE IT IN" »
"I've never been afraid of stepping in to solve problems for the American people, and I'm not going to stop now," McCain told a rally in Columbus, Ohio. "Sen. Obama took a very different approach to the crisis our country faced. At first he didn't want to get involved. Then he was monitoring the situation."

McCain, grinning, flashed a sarcastic thumbs up.

"That's not leadership. That's watching from the sidelines," he added to cheers and applause.

Doug Holtz-Eakin, McCain's senior policy adviser, told reporters on a conference call that Obama was "phoning it in" instead of working hard on a rescue. "Where was Barack Obama for today?" Holtz-Eakin said. "He's phoning it in — phoning it in — one more time."

McCain "dedicated the past week" to addressing the problem but made "a conscious decision not to attract attention to John McCain."

"He's made dozens of calls" Holtz-Eakin said.
SARAH PALIN ON AGREEING BUT NOT AGREEING THEN AGREEING AGAIN WITH BARACK OBAMA »
The interview began with a question about an incident on Saturday in Philadelphia, in which a voter in a restaurant asked Ms. Palin about cross-border attacks from Afghanistan into Pakistan.

She had said she approved of such attacks, to "stop the terrorists from coming any further in," which is the position of Senator Barack Obama, the Democratic nominee.

Asked if she and Mr. McCain were "on the same page" on this subject, Ms. Palin said:

"We had a great discussion with President Zardari as we talked about what it is that America can and should be doing together to make sure that the terrorists do not cross borders and do not ultimately put themselves in a position of attacking America again or her allies. And we will do what we have to do to secure the United States of America and her allies."

Ms. Couric noted that Mr. McCain had said earlier that such attacks were not something that should be discussed out loud, and asked him again: "Is that something you shouldn't say out loud, Senator McCain?"

Mr. McCain said: "Of course not. But, look, I understand this day and age 'gotcha' journalism. Is that a pizza place? In a conversation with someone who you didn't hear — the question very well, you don't know the context of the conversation. Grab a phrase. Governor Palin and agree that you don't announce that you're going to attack another country."

Ms. Couric asked Ms. Palin if she was sorry she had made the statement, but Mr. McCain jumped in.

"Wait a minute," he said. "Before you say, 'is she sorry she said it,' this was a 'gotcha' sound bite that, look …"

Ms. Couric said it was not a "gotcha" moment and that the question was tossed out by a voter, not a journalist.

"No," Mr. McCain said. "She was in a conversation with a group of people and talking back and forth. And, I'll let Governor Palin speak for herself."

Ms. Palin said that Mr. McCain was "absolutely right on."

She added: "In the context, this was a voter, a constituent, hollering out a question from across an area asking, 'What are you gonna do about Pakistan?

You better have an answer to Pakistan.' I said we're gonna do what we have to do to protect the United States of America."

Ms. Couric said: "But you were pretty specific about what you wanted to do, cross-border."

Ms. Palin said: "Well, as Senator McCain is suggesting here, also, never would our administration get out there and show our cards to terrorists, in this case, to enemies and let them know what the game plan was, not when that could ultimately adversely affect a plan to keep America secure."

Ms. Couric asked her what she had learned from the experience.

"That this is all about 'gotcha' journalism," she said, smiling. "A lot of it is," she said, quickly adding, "But that's O.K., too."
SOURCE: MSNBC
Be the first to receive breaking news alerts and more stories like this by subscribing to our mailing list.