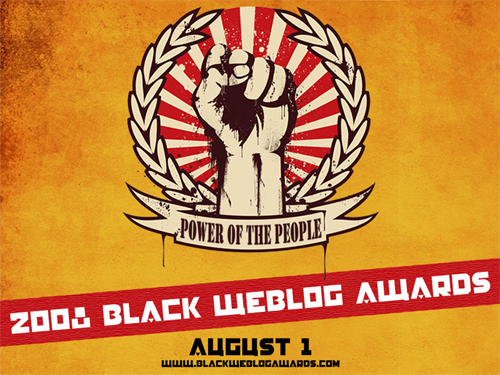 It's that time of year again. I didn't really stress you guys nominating us for last year's weblog awards, but this year I'd really appreciate it if each and every one of you took the time (it only takes a minute or two) to nominate Think2Wice in the following categories. We'll explain why after each category.
BEST BLOG DESIGN: Not to toot my own horn or anything, but I've been told by just about damn-near everyone how great the current layout here at T2W is. Not only is it aesthetically pleasing and eye-catching, but it's also practical in that you can view posts in two different ways: the classic blog or the 2008 blog. No other blog (that I know of) does that, by the way 😉
BEST GOSSIP BLOG: Of course every site thinks they're the best, but when it comes to your favorite celebrities, if you really enjoy reading what we have to say over here at Think2Wice, then vote for us!
BEST GROUP BLOG: Think2Wice is ran by 4 talented young people: Myself (Dustin), Mike, Kennesha, and Terrell, and we all make sure you guys' needs for the latest in urban entertainment are fulfilled. So please do us a favor and nominate us for this category. Pretty please? =D
BEST TEEN BLOG: Oh! I forgot to mention that all of us are under the age of 20. That's right, the oldest blogger on this site is only 19 years old. I'm (Dustin) 18, Mike's 18, Kennesha's 19, and Terrell is 17. Yeah yeah, we're youngin's, hehe.
BLOG TO WATCH: Of course YOU know about us … but not everyone doe.! But we're not too worried about that, because in due time, everyone will. So you should definitely keep your eye on us because we are a "blog to watch." Be on the look-out for big things from T2W!
If you're looking for some other blogs to fulfill the rest of those categories, continue reading below!
BEST BLOG COMMUNITY: The Urban Blogger – A great community of urban bloggers. Necole Bitchie of NecoleBitchie.com thought it'd be a good idea to create a site that brings together bloggers who predominately blog about black celebrities or black issues – hence the name "the urban blogger." I'm a member over there, so yeah … I'll definitely be nominating TUB for "best blog community!" And you should too!
BEST CELEBRITY BLOG: Kanye Universecity – Kanye West's blog! Out of all of the celebrites who are trying to run blogs now-a-days, I'd have to say Yeezy's is by far the best. He's recently come under scrutiny for possibly using a ghost blogger, but even if he does use a ghost blogger every now and then, you can't knock him for that. Blogging ain't easy! Lol.
BEST FICTIONAL BLOG: The Lil' Creole Pimp Chronicles – I absolutely love this site! The author portrays himself as baby Daniel (aka Juelz – Solange's son) in a funny, comical, and satircal way. The Knowles clan tried to shut him down recently (hence the various disclaimers throughout the site), but apparently he's stil keeping it going, and I'm glad.
BEST HIP-HOP BLOG: Real Talk NY – Shout-out to my boy Nigel! RTNY is by far the best hip-hop blog online. When you see photos from parties and major hip-hop events, don't expect to see them credit sites like Getty, Wire, or Splash, because they actually go out on the scene and collect exclusive media (photos, videos, etc.) themselves – something most blogs don't do. This blog should definitely be crowned "best hip-hop blog."
BEST HUMOR BLOG: Crunk & Disorderly – The funniest celebrity blog on the planet! My girl Fresh keeps it "fresh" with her daily commentary on the latest on what's going on with black celebrities. But what's unique about her site is the way she delivers her wit and commentary. She does it in a way that doesn't necessarily "bash" the celebrities, and EVERYTHING that comes out of her mouth (or the tips of her fingers, I should say) is hilarious! Honestly, if I were a celebrity, I wouldn't take offense to what she says. I'd just laugh!
BEST NEW BLOG: Necole Bitchie – Shout-out to my homie Necole! This blog started in December 2007 and has already taken the blogging world by storm. After only about 7 months of operation, her readerbase is already stronger than most celebrity blogs online – and with the market of black blogs being as overly saturated as it is, that's a MAJOR accomplishment. So please, do me a favor and hook up my homegirl with this nomination.
BEST WRITING IN A BLOG: Sandra Rose – Some people don't like what Ms. Rose has to say about their favorite celebrities, but as with anything, everyone is entitled to their own opinion, including the blog author! I, myself, don't always agree with what she has to say, but you can't deny that the writing behind this site is exceptional. And the woman is just damn funny! If I'm not mistaken, she's one of the major reasons why everyone is giving Kanye's blog the side-eye now! Lol!! But yeah, hook up my girl Sandra Rose with the nomination of "Best Writing in a Blog."
Be the first to receive breaking news alerts and more stories like this by subscribing to our mailing list.