The best 'Girl' series to hit primetime television is back! This month Girlfriends – The Fourth Season will be sold at all available store markets on July 29th! The 3-disc set is stock full of special DVD features and all 24 of your favorite Girlfriends episodes including Todd and Toni (Jill Marie Jones)'s financial issues in 'If It's Broke, Fix It', Lynn (Persia White)'s skepticism with Sivad and their relationship in 'Snoop, There It Is', Joan (Tracee Ellis Ross)'s bitter love triangle with Brock and Ellis in 'Hopelessly Devoted To Two', and Mya (Golden Brooks) coming to realization of her new beau Alex, a famous basketball star, treating her like a 'Sideline Ho' in 'Good Catch or Bad Hop?'. You can pre-order Girlfriends – The Fourth Season on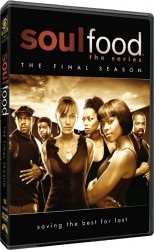 The cast of Showtime's Soul Food is back with Soul Food: The Final Season, the final 14 episodes of the critically acclaimed series are finally coming to DVD! You should tune into this season to find out if Teri (Nicole Ari Parker) finally gave up on Damon (Boris Kodjoe) after he walked out on her in the season's finale (which would be season 3).
The DVD will be available at a store near you July 8th, so make sure you go out and pick it up! Also, for those of you who have never seen the television series, your in luck because the whole series will also be available as one whole package that day. You can pre-order Soul Food (series): The Final Season on
Be the first to receive breaking news alerts and more stories like this by subscribing to our mailing list.