THINK2WICE THEATER PICKS
Here are some newly released movies that we've seen and recommend you go out and see too!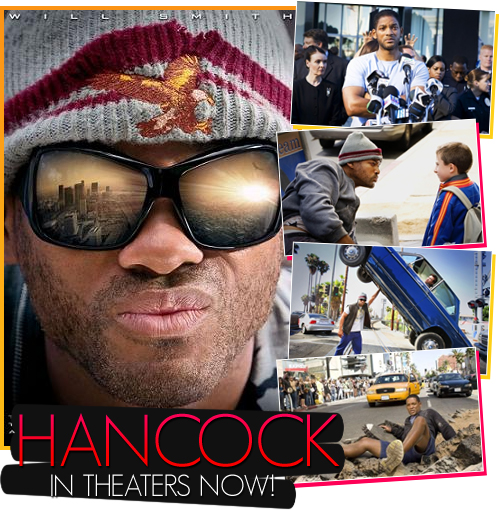 You give a man a fish, you feed him for a day. You give an alcoholic, nonchalant guy some superpowers, and you end up with a wrecked city. A popular movie release this week was "Hancock," which starred Will Smith. Hancock hit theaters Wednesday (July 2nd), which is particularly unusual for a movie, since most theatrical releases are on Friday. Anyway, I planned on seeing the movie last night but something came up and I didn't get a chance to make it to the movies. So here's the official synopsis from Sony Pictures:
There are heroes… there are superheroes… and then there's Hancock (Will Smith). With great power comes great responsibility – everyone knows that – everyone, that is, but Hancock. Edgy, conflicted, sarcastic, and misunderstood, Hancock's well-intentioned heroics might get the job done and save countless lives, but always seem to leave jaw-dropping damage in their wake. The public has finally had enough – as grateful as they are to have their local hero, the good citizens of Los Angeles are wondering what they ever did to deserve this guy. Hancock isn't the kind of man who cares what other people think – until the day that he saves the life of PR executive Ray Embrey (Jason Bateman), and the sardonic superhero begins to realize that he may have a vulnerable side after all. Facing that will be Hancock's greatest challenge yet – and a task that may prove impossible as Ray's wife, Mary (Charlize Theron), insists that he's a lost cause. — © Sony Pictures
A popular release last weekend (June 27th) was "Wanted," an action-packed adventure movie starring Morgan Freeman, Angelina Jolie, James McAvoy, and Common. The movie opens up with James McAvoy's character, Wesley Gibson, a 25-year-old cubical dwelling "Account Manager" narrating his boss' birthday party at the office. He, and everyone else for that matter, hates this woman. She constantly picks on everyone in the office, and above all, is rude and demanding. But that's not the only problem Wes has with his life. His girlfriend is cheating on him with his best friend, and he knows this, but won't stand up for himself. Oh yeah, his father left him when he was only 7 days old. So you can imagine the kind of life this guy has. Then all of a sudden, at a "quick-mart" type grocery store, he meets a woman named Fox (Angelina Jolie) who surprises him with the news of his estranged father being murdered.
He later learns that his father was an assassin associated with "The Fraternity," a group of highly skilled killers who know how to curve bullets around obstacles, shoot the wings off of flies (without hitting the fly), and handle knives with quickness and agility. Wes is recruited to assassinate the man who murdered his father because The Fraternity believes that he is the only person fit for the job. After 6 weeks of extensive training (you'll see just how extensive when you see the movie) training, The Fraternity's leader, Sloan (Morgan Freeman) gives Wes his first mission (delivered by a code-bearing fabric loom), and Wes is officially a member of The Fraternity.
If you're into movies with tons of action, thought-provoking plots, and amazing CGI effects, then "Wanted" is the movie for you! I'm not exaggerating when I tell you that action makes up the movie's entire 110 minute duration. I particularly enjoyed this movie because of the way the story turns near the end, and the way the director kept you on the edge of your seat. "Wanted" also had its funny moments, and effects of the bullets flying through people's heads was hella dope too! The ending was also good. It leaves a little room for a sequel, which I hear is already in the works.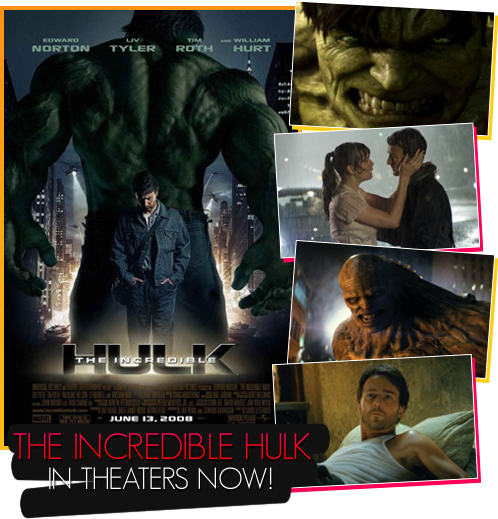 "The Incredible Hulk," based off of the Marvel comic, saw its big release on June 13th, and grossed over $55 million in its opening weekend. The movie stars Liv Tyler, Tim Roth, William Hurt, and Edward Norton, who plays the green giant. The movie centers around Bruce Banner (Edward Norton), a scientist who desperately searches for a cure for his "disease:" an exposure to gamma radiation that causes him to turn into a giant green beast when his heart rate reaches a certain level. And trust me, you don't want to see this guy when he's "hungry" angry (you'll get the joke when you see the movie).
In this search for a cure, he comes in contact with Betty Ross (Liv Tyler), a woman he loves and once worked with in the past, but was separated in the midst of all of the drama of him becoming "The Hulk." They meet at a restaurant, she shares her home with him, and they go on the run (from the government) together, only to come across an angered member of the military who deliberately exposes himself to gamma radiation and becomes "The Abomination." Bruce Banner must now embrace his powers as The Hulk and take on The Abomination to save himself, Betty, and mankind.
If you saw the first Hulk remake (titled "Hulk") back in 2003, and were disappointed, like I was, then I suggest you go out and see the 2008 version, which is 10x better! This movie follows the plot of the original comic book series, and the television show, a little more closely than its predecessor. Out of the three movies mentioned in this post, I wouldn't say that this one was the best, but it is definitely worth whatever it costs these days to watch a movie where you live.

THINK2WICE DVD PICKS
Here are some newly released DVDs that we've seen and recommend you go out buy/rent for your viewing pleasure!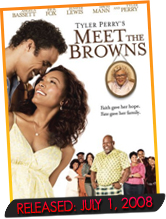 TYLER PERRY'S MEET THE BROWNS » Prolific playwright Tyler Perry adapts his popular stage play of the same name in this family-oriented comedy concerning a desperate mother who connects with the family she never knew. Brenda (Angela Bassett) is a single Chicago mother of three who has been struggling for years to keep her kids off of the streets. Suddenly let go from her job with no warning to speak of, the eternally optimistic mother begins to experience a suffocating sense of hopelessness for the very first time in her life. When Brenda receives a death notice claiming that the father she has never met has passed away, she quickly gathers up the kids and sets out for Georgia to attend the funeral. Upon arriving in the Deep South, the once fretful mother is pleasantly surprised to discover that there is a whole side of the family she never knew existed. A crass but good-natured clan that welcomes Brenda and her children with open arms, the Browns' lazy summer afternoons and frequent trips to the county fair offer a much-needed contrast to the stress of surviving in inner city Chicago. Writer/director/actor Perry reprises his role as indomitable, law-breaking grandmother Madea in a comedy that proves sometimes second chances come when you least expect it. — Jason Buchanan, All Movie Guide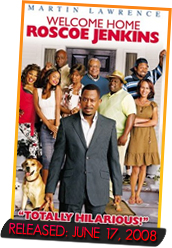 WELCOME HOME ROSCOE JENKINS » A single father who has just found success as the host of an outrageous television talk show begins to question his path in life when he returns home to attend his parents' 50th wedding anniversary party in the company of his famous fiancée — a reality television star — in this crisis-of-conscience comedy starring Martin Lawrence. RJ Stevens (Lawrence) is a television talk-show sensation who has transcended his modest Southern beginnings to become the most popular self-help guru ever to grace the small screen. His show, "Team of Me," is a ratings juggernaut, his fiancée is a beautiful reality television star, and his pockets are always lined with large bills. There are few Tinseltown dreams that RJ hasn't already achieved, so when his parents announce their 50th wedding anniversary, the family-oriented television star immediately drops everything and sets his sights on Georgia. As a boy, RJ was always the target of ridicule within his family, but these days things are different; not only does RJ have a ten-year-old son, but his bride-to-be is admired by countless viewers all across the globe on a weekly basis. But RJ's egotistical West Coast attitude simply doesn't fly in the South, and when his lovable but relentless family refuses to cut him any slack due to his current superstar status, he must finally pause and take stock of the man he has become. Louis C.K., Cedric the Entertainer, Michael Clarke Duncan, and James Earl Jones co-star in a Southern-flavored family comedy written and directed by Malcolm D. Lee. — Jason Buchanan, All Movie Guide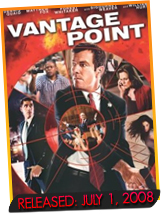 VANTAGE POINT » Forest Whitaker, Dennis Quaid, William Hurt, and Matthew Fox star in director Pete Travis' Rashomon-style thriller in which an assassination attempt on the president of the United States is detailed from five unique perspectives. As the president arrives in Salamanca, gunshots ring out. An American tourist (Whitaker) has captured footage of the would-be assassin on videotape, and now, as the stories of the other four witnesses unfold, each essential piece of the puzzle quickly falls into place. Only when all of the stories are told will the chilling truth to this shocking crime finally emerge. — Jason Buchanan, All Movie Guide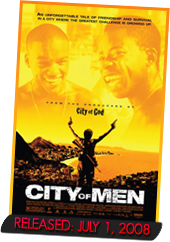 CITY OF MEN »
Two lifelong friends raised amidst the turmoil of Rio de Janeiro's notorious Pool Hall Hill attempt to navigate the treacherous maze of adulthood after celebrating their 18th birthdays and becoming caught up in the city's endless cycle of violence in director Paulo Morelli's companion piece to the Golden Globe-winning drama City of God.
Laranjinha (Darlan Cunha)
and
Acerola (Douglas Silva)
may not be bound by blood, but these childhood friends are closer to one another than most brothers. While their friendship has gone a long way in helping them both to cope with the strife that surrounds them, the hard truth is that they will both have to fend for themselves now that they've entered into adulthood. For Laranjinha, entering this stage in life means finding his long-lost father; for Acerola it means finally taking responsibility for his growing family. Now, as Laranjinha's cousin, quick-tempered local drug lord
Madrugadão (Jonathan Haagensen)
, finds his power threatened by his former right-hand man
Nefasto (Eduardo BR Piranha)
, it quickly becomes apparent that a formidable war is brewing in the poverty-stricken shantytown. The brother of Laranjinha's girlfriend,
Camila (Naima Silva)
, looks to be a key component in this battle, threatening to draw a neutral man into a deadly confrontation. Meanwhile, Acerola's wife,
Cris (Camila Monteiro)
, is threatening to move to São Paolo so that her family won't be consumed by the violence that has torn apart so many families before. —
Jason Buchanan, All Movie Guide
Be the first to receive breaking news alerts and more stories like this by subscribing to our mailing list.