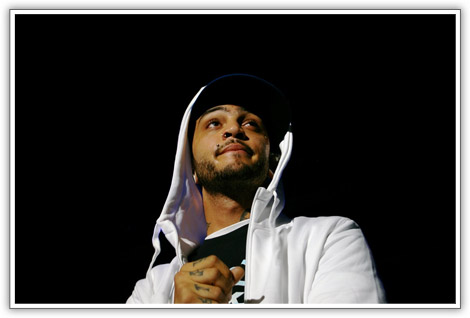 MARYLAND HEIGHTS, MISSOURI // TUESDAY, JULY 2ND 2008 » Gym Class Heroes member Travis Mccoy recently got into an altercation with an audience member after a racial slur was yelled at him during a performance.
"Hip Hop band Gym Class Heroes was in the middle of their set on the Warped Tour in St. Louis Missouri, when frontman Travis McCoy got into an onstage scuffle with an audience member. According the RollingStone.com, the band had just finished their first song when the unnamed man called McCoy a "fucking ignorant nigger."
"Travis invited him onstage with the intent of calling him out in front of the crowd, with absolutely no intention of a physical altercation," said the band's manager Bob McLynn. "When he tried to help him onstage, the guy hit Travis in the knee area, forcing Travis to defend himself. At this point, a scuffle broke out."

McCoy's defense of himself reportedly included breaking his microphone over the man's head. The entertainer immediately apologized to the crowd, saying, "I'm sorry. But when someone calls you something that ignorant and that offensive, you have to bash their head in with a microphone." The crowd cheered as the unknown man was escorted away by security.
Travis was arrested on stage after the show and charged with third-degree assault. He was released Wednesday morning on $500 bond.
Be the first to receive breaking news alerts and more stories like this by subscribing to our mailing list.