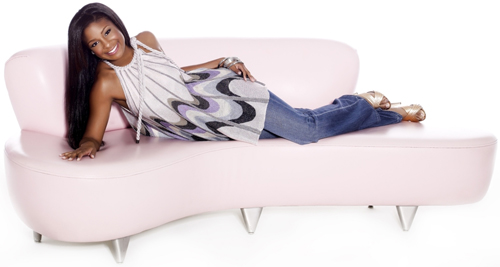 New R&B sensation Qui and daughter of former NFL player Jerry Rice, is ready to make her musical debut to the world. Her first single "Rev It Up" features David Banner. Qui's album LUV 'N LIFE is slated for release later on this summer! If you're interested in checking out the song, check out the stream below! Qui's bio can be found after the break.
Possessing talent is one thing. But equal measures of determination and focus are also required to succeed in today's competitive music arena. Singer/songwriter/musician Jacqui "Qui" Rice is one of those talented few.
While maintaining a 4.0 average at Washington, D.C.'s Georgetown University,majoring in government and Spanish, with a focus on international relations, the college junior found time to pursue her long-held passion. Slated for a late summer release is Qui's (pronounced "Kwee") debut album, LUV 'N LIFE (JJR Entertainment). The mix of mid-tempo, R&B/pop and ballads calls to mind such influences as Janet Jackson, Michael Jackson and Ciara. But LUV 'N LIFE is definitely Qui's show.
At a time when consumers are looking for more substantial melodies and lyrics, Qui's music definitely fits the taste of today's audience.
Born in Greenville, Mississippi and raised in Atherton, CA, Qui isn't one of those paint-by-numbers artists who typify most contemporary music. Under the guidance of co-writer Francesca "Francii" Richard, and a team of talented production newcomers, Qui's vocal talent, combined with her ability for writing relatable lyrics, shines against a backdrop of hypnotic grooves with across-the-board appeal.
On LUV 'N LIFE, Qui chronicles the fun, yet scary rollercoaster ride, everyone experiences when it comes to relationships and love as well as the self-awareness that rises from this emotional journey. The siren intro and rousing beat of the opening track, "On the Line," is infused with the exhilarating rush that happens when you meet "that someone" for the first time. Thrilled yet cautious, Qui explores her newfound feelings on the mid-tempo groove "Personal" and the poignant "Stay" ("You flipped the scenario/Every fear that I had/had to let it go).
Qui jumps into funky mode on the first single from her debut, the percolating dance joint "Rev It Up". Her sultry vocals provide the perfect juxtaposition to the track's featured guest, raspy-voiced, Mississippi-bred rapper David Banner.
Qui taps into her growing self-awareness as a young woman on the inspirational anthem "Girl Child." Underscoring her subtly powerful vocal is a harmonizing chorus of girl-child voices backing Qui on the compelling hook (It's hard being a lady when this world is crazy/Still I know it's a blessing I was born a girl child). Love's heartbreak is addressed on the moving ballad "It Was U," while Qui's awakening "a-ha" moment is expressed via the rock-infused "Solo."
While recording LUV 'N LIFE, Qui says her goal was to keep it "funky, fun and positive. You pretty much groove to every song on here."
Emotion was a key factor as well. "It's important to make people feel what you're singing," adds the artist whose musical influences also encompass pop/rock (John Mayer, Maroon 5), country (Johnny Cash, Shania Twain, rap (Snoop Dogg and David Banner) and gospel (Yolanda Adams, Donnie McClurkin).
"Lyrics really inspire me," adds Qui. "I was always writing random lyrics and poems in school in my assignment books. Finally getting to see these songs come to life is exciting."
Listening to her paternal grandmother sing in church during summers spent in Mississippi as well as to her parents' diverse oldies collection, which included Marvin Gaye, Temptations, Billie Holiday and Elvis, Qui began playing piano at the age of five. Then at the age of 10, she declared her intent to become a singer. That desire was put to the test at age 11 when Qui performed the national anthem before 62,000 football fans at a San Francisco 49ers game.
"Dancing, music and singing always went hand in hand for me," she says. "I found I love performing in front of crowds. It's an adrenaline thing."
Her first formal introduction into the music industry occurred at 15 when Qui joined a teen quartet called Sorella (Italian for sister). Performing up and down the California coast during the summer at showcases and festivals in Florida and Texas, the multi-ethnic pop group signed with JJR Entertainment,an independent label established by Qui's mother. After four years, the group disbanded.
Qui comes by her competitive drive and fortitude naturally. Her father is legendary NFL Wide Receiver and Hall of Famer Jerry Rice, who put himself through a different kind of intense pace while a contestant on "Dancing With The Stars. Mother Jacqueline is a former pre-med student who manages the day-to-day operations of JJRE. "My Mom taught me how to multi-task," says Qui. "She took us to school, ran the household and made sure my brother, sister and I had plenty of extra-curricular activities. She and my Dad taught us to dream."
Though her career is a family affair, Qui is quick to proclaim she wants to forge her own identity and not trade on her parents' notoriety. "My lifestyle doesn't depend on my Dad or Mom's success," she adds. "I want to make a first impression based on who I am alone."
In spring, 2008, Qui became the first African American to be crowned Queen of the Shenandoah Apple Blossom Festival, an achievement that Qui is quite proud of. Now in its 81st year, the festival is an annual tradition in Winchester, Virginia, (West of Washington, D.C.) that attracts more than 250,000 people.
A college girl at heart, she loves old movies, cupcakes, pizza and barbecued chicken and shares a house with five other students. Qui admits its difficult balancing her studies and a singing career. However, her "can-do" spirit remains just as strong as her zeal for LUV 'N LIFE and the promise it holds. "It's been difficult, but somehow you make it work and it's worth it,' she notes. "Music is where my heart is."
Be the first to receive breaking news alerts and more stories like this by subscribing to our mailing list.