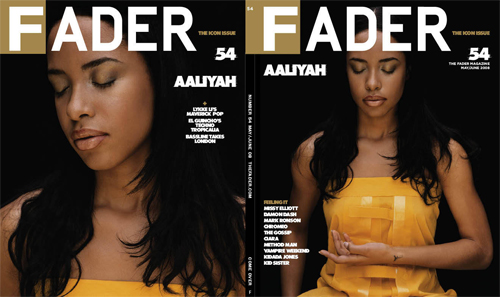 This year's "Icon Issue" from The Fader Magazine pays homage to the late Aaliyah with remembrances and contributions from family, friends, and industry peers.
"It only took Aaliyah a few albums to make an indelible mark on the world of pop music, but today her influence can be felt across numerous genres," said Chris Richards, Executive Editor of The FADER. "This issue not only tracks that influence, but also offers a more personal glimpse into the life of a true pop visionary."
Issue 54 of The Fader will be available via iTunes in its entirety, with corresponding audio podcasts, and as a free download at thefader.com. Be on the look-out for it on news stands as well. Follow the break for quotes from inside of the issue.
Missy Elliott: "We was gonna save the world. We was gonna change music every chance we got. We was gonna always be family. Forever."
Mark Ronson: "If it wasn't for Aaliyah being the face and voice of [Missy Elliott and Timbaland's] sound they might have never got to where they did. They were presenting their sort of brilliant but challenging breakthrough music through this beautiful young girl who could sing it perfectly."
Kidada Jones: "I think about her all the time…Anytime she's brought up or her music comes on the radio, it's sweet, but it definitely sounds like she found a niche before it was here. If you listen to her music it's so relevant today, but we had it so long ago."
Damon Dash: "She was already a fashion icon, she was getting into movies, she had already planted that seed. If she was alive today she would be so relevant. I see little bits of her everywhere I look, in a lot of artists."
Jomo Hankerson: "I think a lot of that mysteriousness they talk about was just what she was. She seemed like she came here already grown up, from the beginning."
Be the first to receive breaking news alerts and more stories like this by subscribing to our mailing list.