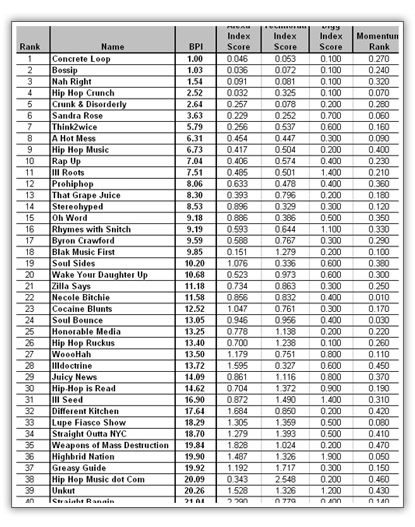 Wooohah.com posted a list of the Top 40 Hip Hop Blogs and Yours Truly made #7!
Wooohah spoke on how they came up with the numbers:
Some associates of mine who are in business school have developed a new blog measurement system called the Blog Performance Indicator (BPI).The BPI measures a percentage of Alexa traffic, Technorati score, Digg, del.icio.us, RSS feeds, social bookmarking reader usage and how much the site has grown in the past month and compares it vs. other "similar category" blogs.

The BPI is supposed to be the most accurate measurement of how one blog performs vs. another and the competition as a whole. I was able to convince them to run the scores for hip-hop blogs. Over 100 active hip-hop blogs (min. one post a week) were rated with over 3,000 active hip-hop blogs found in the nation…
Congratulations to all of the other Blogs that made the list!
Be the first to receive breaking news alerts and more stories like this by subscribing to our mailing list.