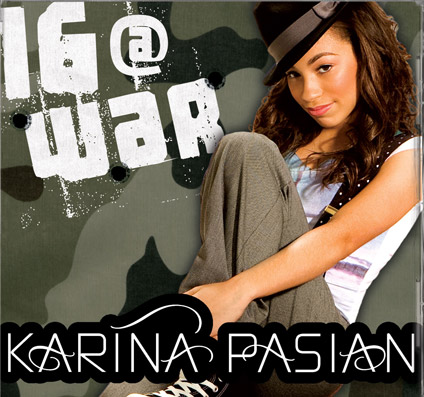 Def Jam's Karina Pasian is the truth! I wasn't really checking for her when I heard that 'With You' remix a long time ago but after I heard '16 At War' I fell in love! Seeing how The-Dream wrote this song I'm not surprised at all about my immediate liking to it. This song is so relative at today's age, it also would've been a good song for me when I was 16, it really would've helped. I think I grew up too fast during that time but then again I'm kinda glad I did. It made me a little smarter and wiser to say the least. Not to say I smoked or anything, but I was pressured so much and then made fun of, even when my mom couldn't afford namebrand clothing. I still wore namebrand but not every single day like the rest of the kids, I often wondered how they could afford it living in the ghetto (becos I sure as hell couldn't afford it). But anyway I'm glad I didn't do any of that, most of the people I went to school with are now dead, in jail, or have babies — so thank God.
Karina Pasian – 16 At War – page link
Be the first to receive breaking news alerts and more stories like this by subscribing to our mailing list.