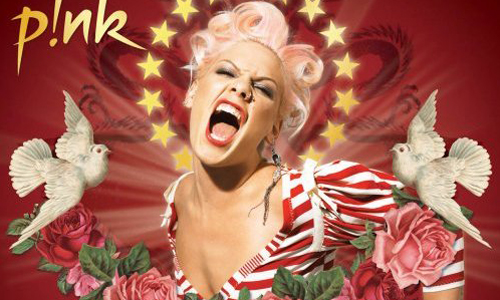 P!NK // I'M NOT DEAD PLATINUM EDITION
Awhoo! Go P!nk! So far the pop-singer's 2006 album I'm Not Dead (LaFace), a follow-up to 2003's Try This (Laface), has been certified platinum in the U.S. and has done extremely well Australia, becoming the best-selling album of all time, certified 8x's platinum, thus leading to the the most successful tour in the nation! Wow, you rock, Pink!
You guys can get your copy of I'm Not Dead Platinum Edition in stores now, the album will include all new bonus material, including four stellar new tracks and a DVD set of all videos from the album. If your wondering, all of this was released around December of last year. So yeah, I'm like a year late, but technically not — two months late! Hey, I loved this album ok! I think out of Ashlee, Lindsay, and P!nk's latest albums I'd have to say P!nk rules out of the three. I went through all sorts of emotions with I'm Not Dead, I think that was the album that really related to me more so than the others.
Anyway my new favourites from this album has to be "I Have Seen The Rain" and "Fingers," becos it reminds me of Britney Spears' "Touch of My Hand". But really, I love all of the new songs, matter of fact, the whole album! "Runaway," "Cuz I Can," "Who Knew," "I Got Money Now," all of them … "Runaway" probably the most. Any type of rebellion: I'm for. Even with N*E*R*D's Fly or Die (Virgin) album — I was so ready to run away — I must have ran away 500 times in my mind already.
Pink – I'm Not Dead – page link
pass: tmi
Be the first to receive breaking news alerts and more stories like this by subscribing to our mailing list.