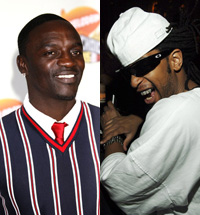 R&B sensation Akon is looking to 'out bling' Guinness Book Of World Records inductee Lil' Jon by creating the biggest diamond pendant ever. Rapper Lil' Jon made history recently when his 12 pounds, 73 carat Crunk Aint Dead piece earned him a place in the record books. But Akon, who owns a diamond mine in his native Senegal, is hoping to trump his jewelry rival with a flashing pendant in the shape of Africa.
He tells Rolling Stone magazine, "I got this one piece that definitely will tear the whole game up; it covers my whole stomach. It's the continent of Africa and the diamonds actually light up… It's crazy. And the country where I'm from has a little lightbulb that constantly flashes. Mine weighs about 10-to-15 (pounds)… Once I show it off, I'm gonna auction it off and all the proceeds are going to go to my foundation."
And Akon insists he'll turn his back on the bling-bling game one he's made the record books with the elaborate piece.
He adds, "I'm kinda retiring from the jewellery thing, the whole bling-bling thing… By next year you're gonna see me with a simple watch, a simple necklace."
Akon, sit yo crispy, tired ass down! You always have your mouth open talkin about somethin or somebody! Has the words "no comment" ever popped in your brain before? Damn! …
Be the first to receive breaking news alerts and more stories like this by subscribing to our mailing list.