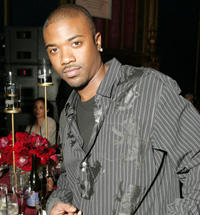 TMZ is telling us that Brandy's little brother (for those who don't know his name is Ray-J, lol) has been offered a four-picture deal by Vivid Entertainment, the very same adult entertainment company releasing the upcoming sextape featuring the c-ball and his amazingly hot ex-girlfriend Kim Dash. Vivid Ent. is not offering him another naked role (thank God!), but is letting him mull over the idea of directing 4 pornos!
Company CEO Steven Hirsch tells TMZ, "Our first conversations were very uncomfortable, but after continuing to talk, the possibility was definitely in the air."
Hmm … I wonder what Whitney has to say about her boo directing pornos. I can hear her now … "Aww, hell to the naw!"
Be the first to receive breaking news alerts and more stories like this by subscribing to our mailing list.