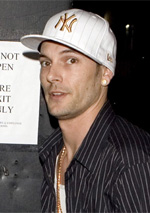 Kevin Federline claims he is "America's most hated man" following his split from pop princess Britney Spears. Federline made the statement during a performance at Hollywood's House of Blues Wednesday night. Since the pair separated earlier this month, the 28-year-old has been vilified in the press as a gold-digging freeloader, capitalizing on his wife's success and wealth. But a packed house turned out to see a resilient Federline perform tracks from his debut album, Playing with Fire.
After lashing out at his detractors — shouting from the stage, "Fuck the haters, fuck the media, fuck the paparazzi" — Federline adapted lyrics to one of his songs. When a member of his entourage asked onstage, "Why does America hate you?" he replied, "Maybe because I took their queen. I am America's most hated."
Okay, Kevin who? LOL. Two things wrong with that statement. (1) You have to be, I don't know … somewhat "important" to be America's most hated. And important, you are NOT! I mean really … who died and made you the president? (2) Since when has Britney Spears been our … "queen?" Kevin, your clock is ticking! Spit out more useless garbage before your time's up! According to my watch, you have about 9 more minutes!! Poor guy…
Be the first to receive breaking news alerts and more stories like this by subscribing to our mailing list.