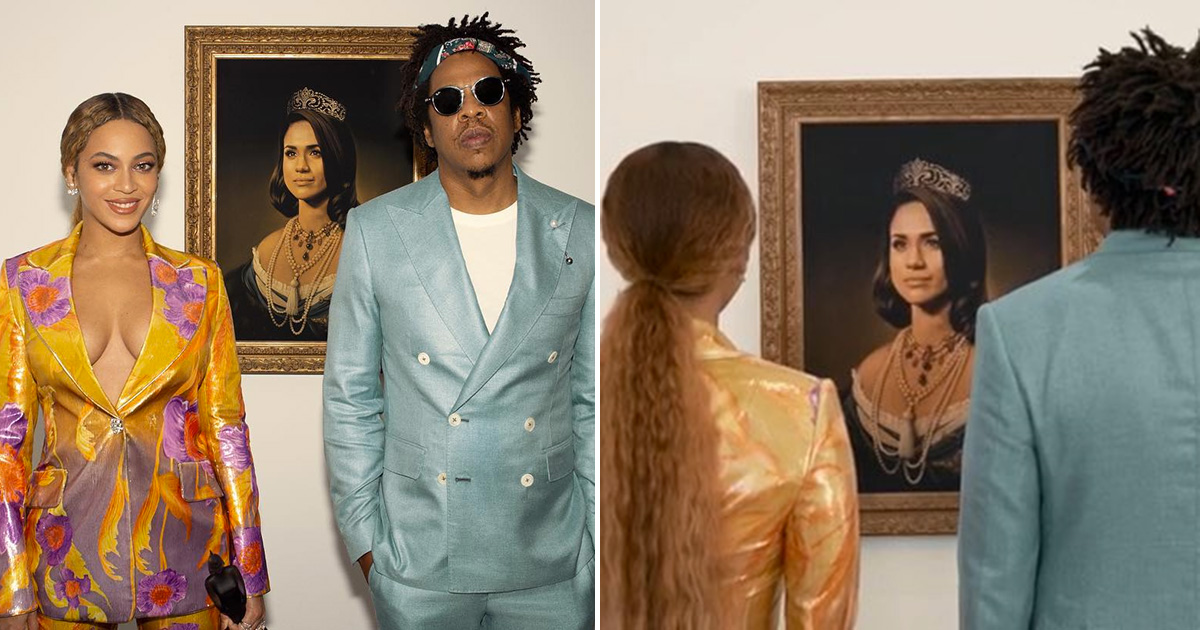 Beyoncé and Jay-Z were honored at the 2019 Brit Awards, taking home the award for Best International Group for their 2018 joint album Everything Is Love.
Though hip-hop's royal couple weren't in attendance at the ceremony in London to physically accept their trophy, the couple posed with the award and thanked the Brit awards for honoring them in a video message that was played during the show featuring a surprise nod to Meghan Markle.
In their acceptance speech, Beyoncé and Jay-Z, collectively known as The Carters, recreated their "Apesh*t" music video, in which they pose in front of Leonardo da Vinci's world-famous "Mona Lisa" painting. However, in place of Mona Lisa is a portrait of Meghan Markle looking regal wearing a sparking crown and pearl necklaces.
"Thank you so much to the Brit awards for this incredible honor," Beyoncé said. "You guys have always been so supportive. Everything is love. Thank you."
Jay-Z joked around, saying "You're welcome" before the duo turned around to admire the portrait. The couple's oldest daughter, 7-year-old Blue Ivy, can also be heard in the background screaming "why?!"
Beyoncé later shared a photo posing with the portrait on Instagram.
"Thank you to the Brits for the award for Best International Group," she wrote. "I won this award back in 2002 with my besties, Kelly and Michelle. How lucky am I to have been in a group with my other best friend, the GOAT Hova."
The pop megastar then explained why they were posing in front of a portrait of the Duchess of Sussex and congratulated her on her pregnancy.
"In honor of Black History Month, we bow down to one of our Melanated Monas," Bey wrote. "Congrats on your pregnancy! We wish you so much joy."
Fans on Twitter were thrilled that Beyoncé and Jay-Z shouted out Meghan Markle, whose mother Doria Ragland is black, during the last few days of Black History Month.
Beyoncé and Jay Z accepting their #BRITS2019 Awards with Meghan Markle in the back mimicking the Mona Lisa is peak niggatry, HAPPY BLACK HISTORY MONTH?? pic.twitter.com/zjZFVGLlqd

— ?c (@pettyyonceh) February 20, 2019
Look at Beyoncé outdoing herself again!! ???? Black girl magic. Black history month. Black excellence. Nod to Meghan Markle from the Queen herself ???????????????? #BritAwards #EverythingIsLove #BRITS2019 pic.twitter.com/cUmaIq8jSy

— Art Becomes You (@artbecomesyou) February 20, 2019
Wow at Beyonce and Jay-Z not only making an acceptance video, but doing so in front of a portrait of Meghan Markle. Very classy, pointed support of a black woman being treated repulsively by the UK tabloids #BRITs

— Laura Snapes (@laurasnapes) February 20, 2019
Meghan Markle + Beyonce + Jay Z = #britawards acceptance speech. I hope this portrait really hangs on the wall at The Carter's home. #meghanmarkle #beyonce #jayz pic.twitter.com/cPGTk3sUmL

— Melanie Bromley (@melaniebromley) February 20, 2019
Beyonce and Jay Z accepting their award with a photo of Meghan Markle in the background is such a dig at the British media and i love it

— Corrie (@CorriesComments) February 20, 2019
Jay Z and Beyoncé accepting a BRIT award for best international group in front of a painting of Meghan Markle wearing a tiara might've just saved Black History Month for me. pic.twitter.com/DYTSrnTsmH

— Kaylah (@kaylahchanel) February 20, 2019
The illustration, by artist Tim O'Brien, previously appeared on the cover of the alumnae magazine for Meghan's sorority, Kappa Kappa Gamma, but the artist seemed surprise to see his work being used by Beyoncé and Jay-Z in their Brit Awards acceptance awards.
"Interesting to see my painting of Megan Markel behind @Beyonce and JZ for their Brit award," he tweeted. "Congratulations to them both."
Interesting to see my painting of Megan Markel behind @Beyonce and JZ for their Brit award. Congratulations to them both. https://t.co/I6jYj9Jslb

— Tim O'Brien (@TonkaOBrien) February 20, 2019