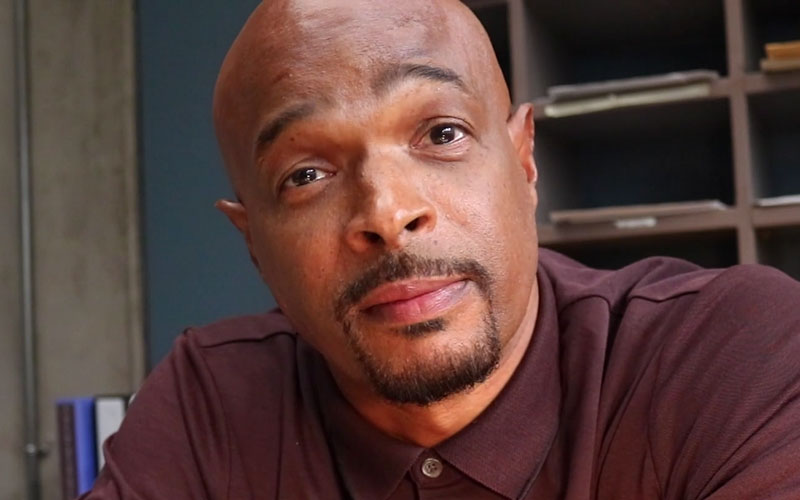 Damon Wayans says he's DONE with "Lethal Weapon." The actor announced this morning (via EurWeb) that he is quitting the hit Fox series, effective this December after he finishes filming the initial 13 episodes for the show's upcoming third season.
"I'm a 58-year-old diabetic, and I'm working 16-hour days," so he's just over the whole thing at this point, a noticeably irritated Wayans said. "I'm done… like Murtaugh [his character on the show] says, 'I'm too old for this.'"
The actor went on to explain that his mother and daughter recently underwent surgeries that he had to miss because he was working. "It's hard for me to play this loving, supportive father/husband/ friend on TV, but be the guy in life that is telling everyone, I can't I have to work," he said.
He continued: "You have to look yourself in the eye and ask, 'Who are you?' It can't be all about work. I'm from a big family, a loving family. All the family gatherings, I haven't seen them. I'm too tired or I can't because it conflicts with work… I have seven grandkids. I've been missing recitals and graduations. To me, it's just not worth it. There is a better way to live life."
Earlier this year, Damon put his former co-star Clayne Crawford on blast after Crawford was fired from the show.
Wayans blamed Crawford for a stunt that injured him, and claimed Crawford was mean and intimidating on set, and enjoyed making women cry.
"How does the shrapnel from this hit me on the opposite side of the head? #directedby @claynecrawford" Damon tweeted back in May along with a photo of a bloody scar on the back of his head.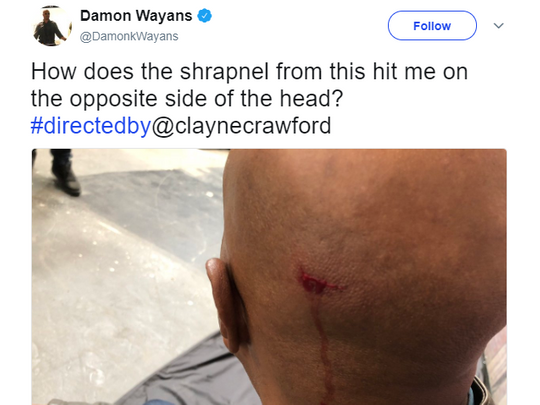 Damon also said staffers would often call Clayne an "emotional terrorist." He also claimed Crawford was physically abusive, writing, "He hit another actor in the mouth with a bottle of green tea and busted his mouth open."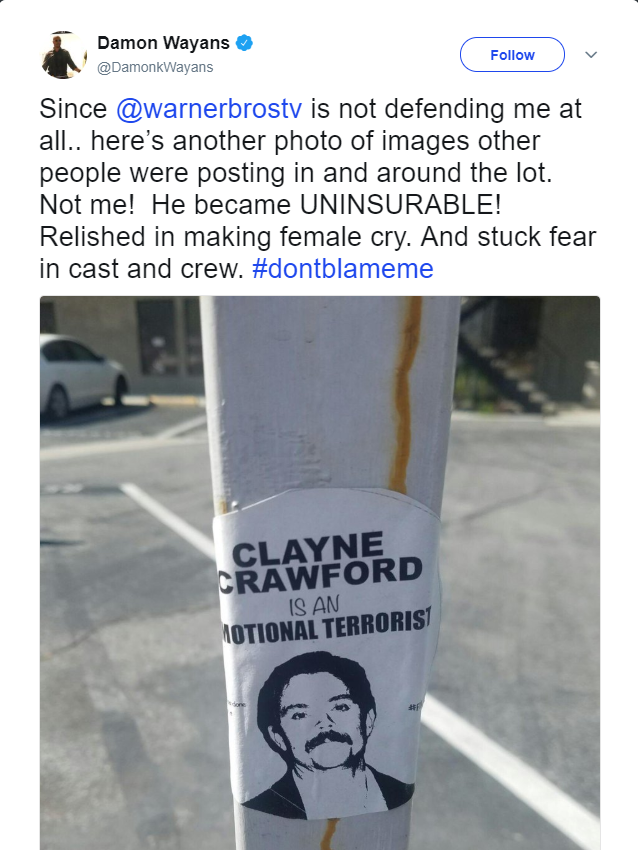 Wayans said that shooting the first 13 episodes of the season would give producers plenty of time to find a replacement for him. He said in 2019, he plans to return to the comedy stage so that he can "try to find [his] smile again."