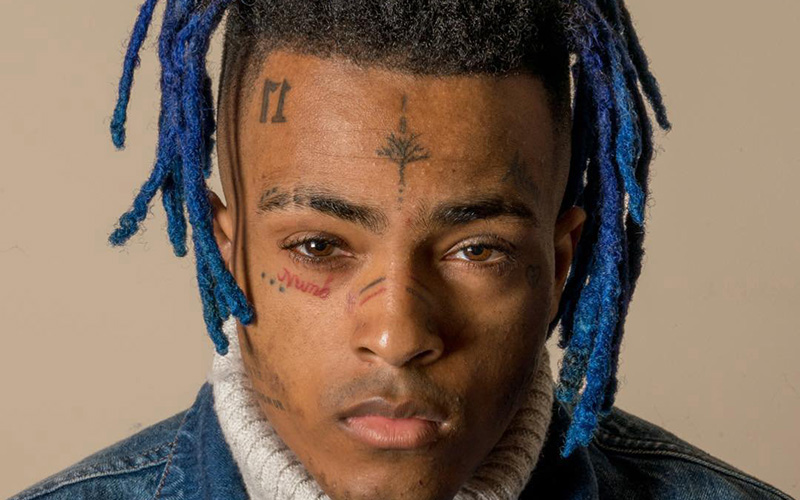 When news broke that rapper XXXTentacion had been shot in Florida, folks rushed to social media to find more information about the reported shooting.
According to reports, the 20-year-old (real name: Jahseh Dwayne Onfroy), was shopping for motorcycles in Deerfield Beach in Broward County, FL Monday afternoon (Jun. 18). As he was leaving the motorcycle dealer, a gunman ran up to his car and shot him before fleeing the scene.
Eyewitnesses recorded video footage immediately after the shooting showing the rapper lifeless in his car. Witnesses described him having "no pulse." He was rushed to the hospital as a "Level 1" trauma patient and was described as "comatose." XXX was officially pronounced dead around 5:40 p.m.
Not too long after it was announced that XXX had died, fans of the rapper and members of the Hip Hop community, including rappers Kanye West and J. Cole, quickly flooded Twitter with tributes, sparking a number of trending topics, such as "RIP XXX" and "Damn XXX."
Just woke up to awful news. It doesn't matter if you were a fan or not. It is gut wrenching to hear about the loss of an artist who was so influential, and who's music helped so many souls. RIP X.

— Alex Aiono (@alexaiono) June 18, 2018
I'm off this twitter shit for some time RIP X …..

— OG SiMMiE (@275YUNGSIMMIE) June 18, 2018
Sucks to see so much talent and potential leave this Earth. RIP X

— Kevin (@KevinLaSean) June 18, 2018
He wasn't perfect but this man was on a path of bettering himself and others… this world is losing its humanity.

Rip XXX pic.twitter.com/63odbD3igb

— Dishon (@thedishonking) June 18, 2018
rip xxx he will forever be in our hearts pic.twitter.com/HVqfLQuspV

— xVerlo (@xVerlo) June 18, 2018
The heart and soul you put into this performance, into your music. You will be missed. RIP Xxx ? pic.twitter.com/ldqpgBLGvx

— Rachelle J. (@queenchelley) June 18, 2018
RIP XXX your message reached and touched millions. despite your errors made in your past you didn't deserve to die.

— duckyboy (@eatjaredtweets) June 18, 2018
https://twitter.com/kanyewest/status/1008839504902307840
This got me fucked up. RIP X. Enormous talent and limitless potential and a strong desire to be a better person. God bless his family, friends and fans.

— J. Cole (@JColeNC) June 18, 2018
No man this can't be real ??

— Lil pump (@lilpump) June 18, 2018
Damn XXX really out here getting fatally shot while Tekashi69 roam around unharmed. That's some crazy shit.

— I (@HumansAreLame) June 18, 2018
Damn XXX really wanted to clear his name and change around the shit that came with hearing his name so that he could be known as a positive influence and now he lost his future… that shit sucks ? Rest Easy X

— JSTJosh (@JoshJST) June 18, 2018
damn xxx can't be gone, 17 helped me through tough times

— COLLETT. (@smokeslurpp) June 18, 2018
Damn xxx your albums are my hype, got me through depression, made me confident when I was ashamed to be myself

— MissingLungFuel (@selfloveee1) June 18, 2018
Damn. Xxx was only 20. Never wanna see someone who's barely lived lose their life. Rip

— Elaquent (@Elaquent) June 18, 2018
https://twitter.com/realivansplash/status/1008832956549484544
Prayers up for X but let's stop with it should've been 6ix9ine. Don't wish death on neither. Damn XXX

— Homage Music (@PayHomage13) June 18, 2018
Damn xxx actually died…

— Dad ? (@JustDestinyYT) June 18, 2018
Damn, XXX got shot… I've had my hard opinions about him but no one deserves to be put In this situation.

— White Wolf (@LordReezus_) June 18, 2018
damn xxx dead at 20 that's some real sad shit

— lando (@BasedYoona) June 18, 2018