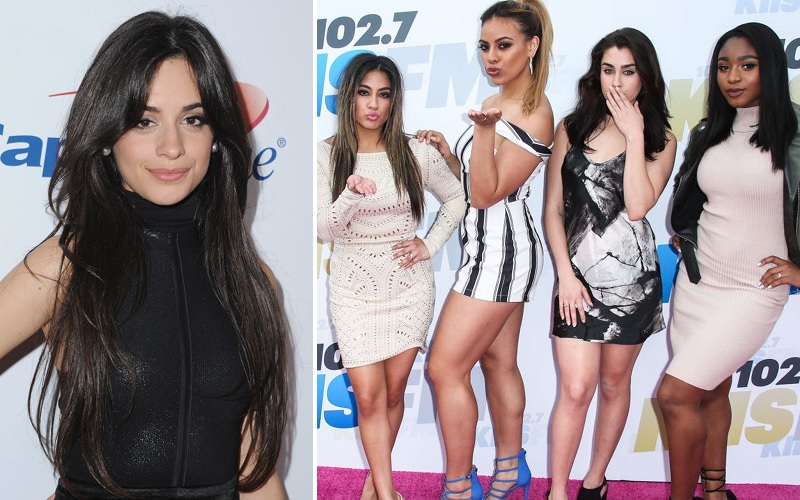 Fifth Harmony shocked fans late Sunday night (Dec. 18) by announcing Camila Cabello is leaving the group effective immediately. However, it also seems Cabello was "shocked" by the sudden announcement.
Cabello posted a lengthy letter on social media explaining her decision to depart from the girl group and to clear up confusion caused by Fifth Harmony's initial (and possibly hasty) statement. Though the 19-year-old was planning to work on solo projects (as is the other members) in 2017, it seems she didn't want to quit the group entirely, at least not yet.
Cabello writes in part:
"I was shocked to read the statement the Fifth Harmony account posted without my knowing. The girls were aware of my feelings through the long, much needed conversations about the future that we had during [the] tour. Saying that they were just informed through my representatives that I was 'leaving the group' is simply not true. Just like the other girls said in their statement about their plans, I had also planned to continue with my own solo endeavors in the New Year, but I did not intend to end things with Fifth Harmony this way. I will continue to root them on all as individuals and as a group, I wish nothing but the best for them, all the success in the world and true happiness.
— Camila Cabello (@camilacabello97) December 19, 2016
Following the group's final performance as a fivesome at Y100's Jingle Ball in Miami on Sunday, the remaining members posted an unexpected statement on their official Instagram account to announce Cabello's exit.
"After 4 and a half years of being together, we have been informed via her representatives that Camila has decided to leave Fifth Harmony. We wish her well… That being said, we are excited to announce that we will be moving forward with the four of us- Ally Brooke, Normani Kordei, Dinah Jane and Lauren Jauregui for our fans."
Fifth Harmony was formed on the second season of The X Factor (U.S. version), placing 3rd. Since forming, the group has battled feud and drama rumors (as with many girl groups). Most recently, rumors swirled Cabello and Kordei were feuding, causing Kordei to briefly delete her Twitter account due to cyberbullying and racist comments.
With the hit singles "Work from Home," "All in my Head," album 7/27, and racking up two Moonman trophies at the MTV VMAs, 2016 was the group's best year yet. No one expected Cabello to pull a Zayn Malik.
The announcement lit Twitter on fire causing "Fifth Harmony," "Camila," "H4rmony," "Fourth Harmony," and "#FreeFifthHarmony" all to become trending topics. Some fans rallied behind Cabello, while others expressed their support for the remaining group.
Some also took the opportunity to throw hilarious shade Cabello's way.
Here's a montage of Camila ruining performances #5HDisbandedParty ?? pic.twitter.com/8hyGo138kW

— ? (@runtheworId) December 19, 2016
I utxtxugxutxigxut RT @digitalney: pic.twitter.com/54pnk60hZa

— K a r i o. (@karrry_) December 19, 2016
#5H2 BTS pic.twitter.com/TzRfRmxtWn

— y (@Scarysspice) January 25, 2016
SCREAMINGG!!!!!!!!!!! pic.twitter.com/tTngw5ttBr

— amorphous (@loneamorphous) December 19, 2016
Camila at her first concert as a solo artist.#H4RMONY #5HDisbandedParty #FifthHarmony pic.twitter.com/PIloAPJpzx

— XII XV (@wtfkidrauhls) December 19, 2016
Camila Stans getting hype for her music vs Camila Stans who will actually buy it #5HDisbandedParty pic.twitter.com/9kxTU58bqD

— – (@cheapthriIlss) December 19, 2016
Dang, fans will turn on you real quick, but the shade got me in tears laughing.
Fifth Harmony has yet to respond to Cabello's statement. However, 2017 is sure to be very interesting for the group and its former member.