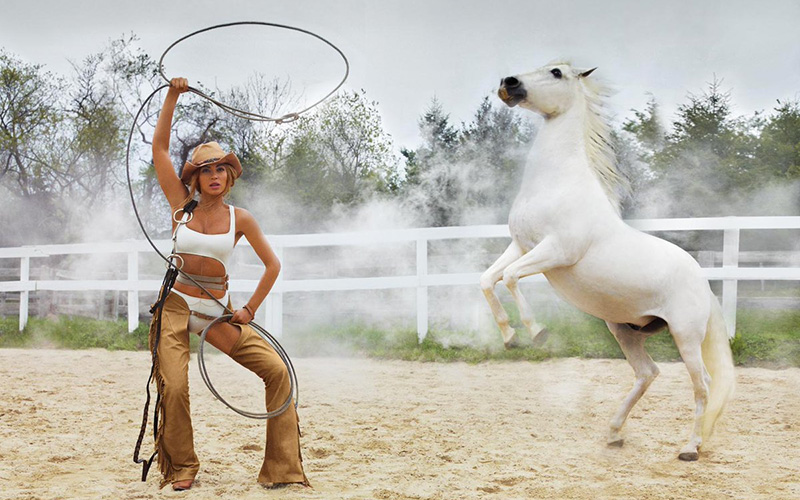 In case you haven't heard, Beyoncé is performing tonight at the 50th annual Country Music Awards!
Rumor has it that she's performing "Daddy Lessons" with the Dixie Chicks, however nothing about her performance has been confirmed, only the fact that it is DEFINITELY happening:
.@Beyonce LIVE. Watch the #CMAawards50 tonight at 8|7c on ABC. Be there! pic.twitter.com/uMMnE6eey1

— CMA Country Music (@CountryMusic) November 3, 2016
When the news broke, it was initially believed that she would open the show, however, that wasn't the case. We're about 30 minutes in, and still no Beyoncé.
#CMAs: Waiting on Beyoncé like… pic.twitter.com/ngxtX2QojJ

— Gossip On This (@GossipOnThis) November 3, 2016
Me watching the #CMAS looking for Beyonce opening the show #CMAawards50 pic.twitter.com/oneb5aZ7Bh

— Kenisha A (@nisharose) November 3, 2016
But no need to fear, Twitter memes and reactions are here! While we wait for Beyoncé's (bound to be) epic CMAs performance, enjoy these hilarious tweets:
Beyoncé: I think I wanna perform at the CMAs
CMAs: well Beyoncé technically y-
Beyoncé: I'm performing at the CMAs

— Kyle (@kaleyeahbro) November 2, 2016
me: i hate country music

"beyoncé will be performing at the cmas tonight"

me: pic.twitter.com/WA0Q0tGb5D

— morgan (@Yeahmorgs) November 2, 2016
Racist country fans: Ah the #CMAs. I place where I can finally live life without the nig-blm.??
Beyoncé: #CMAawards50 pic.twitter.com/WW4WMg2ht0

— Janelle (@showsb4hoes) November 2, 2016
I hope Beyonce performs formation tonight and brings out Solange and let her perform FUBU #CMAs

— Shanita Hubbard (@msshanitarenee) November 2, 2016
When you find out Beyoncé is performing at the Country Music Awards… pic.twitter.com/yRlEgVCzr4

— MrVicks (@MrVicks) November 2, 2016
Me: I hate country music

"Beyoncé to open CMAs alongside Dixie Chicks"

Me: pic.twitter.com/xorzP7ghNn

— chris (@LouisKnit) November 2, 2016
me: i hate country music
beyoncé: ill be performing at the CMAs
me: https://t.co/D7nnwmFVUp

— ? (@MEL__twt) November 2, 2016
me: i hate country music

"beyoncé will be performing at the cmas tonight"

me: pic.twitter.com/XDcfTwtz7F

— Tré Melvin ? (@TreMelvin) November 2, 2016
Me: I hate country music

Twitter: "Beyoncé is performing at the Country Music Awards"

Me: pic.twitter.com/pO70lB0K79

— John Belsha (@JohnBelsha) November 2, 2016
Me: FUCK the Country Music Awards!

Them: But Beyonce is performing.

Me: pic.twitter.com/oQyWvJIRtE

— Dub (@LDUB3) November 2, 2016
me: country music makes my ears bleed
Beyoncé: im performing at the CMA's
me: pic.twitter.com/i1WyaUM2tv

— sydney (@lilsyd14) November 2, 2016
Me waiting on Beyoncé to perform on the CMAs pic.twitter.com/oaudFBC7l1

— Bailee (@bailee_bear) November 2, 2016
The #BeyHive tonight if Beyoncé really is performing at the CMAs pic.twitter.com/GL3ybJZdwh

— ***Mikey (@B_NERD) November 2, 2016
me watching the #CMAs until i hear Beyoncé's voice #CMAwards50 pic.twitter.com/zYGlDfimSW

— bonafiedhoe (@pettyyonceh) November 3, 2016
Watching the #CMAS just like this because I'm only here for Beyoncé pic.twitter.com/aDpcZuyMYz

— Malika M (@xoxmalika) November 3, 2016
The beyhive sitting thru white humor like #cmas pic.twitter.com/ec44Su1AxJ

— Lady Marmalade (@CajunPeachy) November 3, 2016
I want Beyoncé to walk down the aisle to the stage like #CMAawards50 pic.twitter.com/AFpWXDjeur

— HershanneSugarbaker (@D0wJ0nEs) November 3, 2016
Raise your hand if you feel like you're being used for ratings while waiting for Beyoncé. #cmas pic.twitter.com/dNuInhe6Su

— . (@The__Prototype) November 3, 2016
Tell the world Beyonce is opening the show…but keep the viewers watching until the end…Well played #CMAs well played… pic.twitter.com/Ux29d576bJ

— Kenisha A (@nisharose) November 3, 2016
"Beyonce will be performing at the 2017 Yodeling Festival"

Us: Welp, let's get in formation y'all" pic.twitter.com/E9E3JKZGLM

— Swedish Montana (@fergnerduson) November 3, 2016
Keep refreshing this post because we'll be updating it "All Night Looooong!"