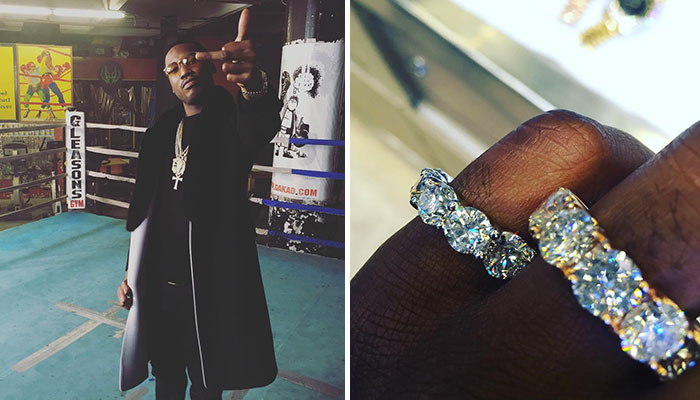 What the hell is Meek Mill doing?
Earlier today, the rapper caused a stir online when he posted a photo on Instagram of him showing off two diamond rings along with the caption "What a time…"
It doesn't take a rocket scientist to see that he is clearly referencing Drake & Future's joint mixtape What A Time To Be Alive … but no one really knows why.
Diamonds are a major theme of the mixtape — they have songs on there called "Diamonds Dancing" and "Big Rings," and the cover is a stock photo of diamonds — and Drake and Future recently shared pictures of "really big rings."
Is this a diss from Meek? Or is this a nod? Is he throwing shade? Or is he acknowledging greatness?
What the hell is Meek Mill doing?
We personally believe he's trying to drum up publicity for his Dreamchasers 4 mixtape (which drops this week), but Twitter, of course, is all over it:
Man wtf meek mill doin?

— Gian (@GGibbz_) October 18, 2015
https://twitter.com/IamAkademiks/status/655855553504219136
https://twitter.com/IamAkademiks/status/655860275627868160
https://twitter.com/AniCaribbean/status/655871005877866496
Meek Mill reminds of a boxer who got knocked out and doesn't realize the fight is over don't drop a 2nd diss record 2 months later you lost

— Vonshell Morgan ?? (@Realvonshell) October 18, 2015
Another L RT @OfficiallyIce: Nah RT @JSpruel10: ?????? @MeekMill pic.twitter.com/BmxtQurVtC

— Frenchie (@CNero_) October 18, 2015
Meek Mill finally accepted defeat.

— Montego Bae (@cherrule) October 18, 2015
Lol is Meek Mill apologizing ???? I'm so confused lmaoo pic.twitter.com/Qgqg1NvZIb

— Jesse ? (@jessthesav) October 18, 2015
I can tell Meek Mill consults Ross about nothing because Ross move too accurate and Meek move with no discipline ever.

— Stoney (@Stone_Marley) October 18, 2015
I wish y'all get off @MeekMill dick , he being petty because his shit bout to drop

— Kiyvember. (@KiyaKardash__) October 19, 2015