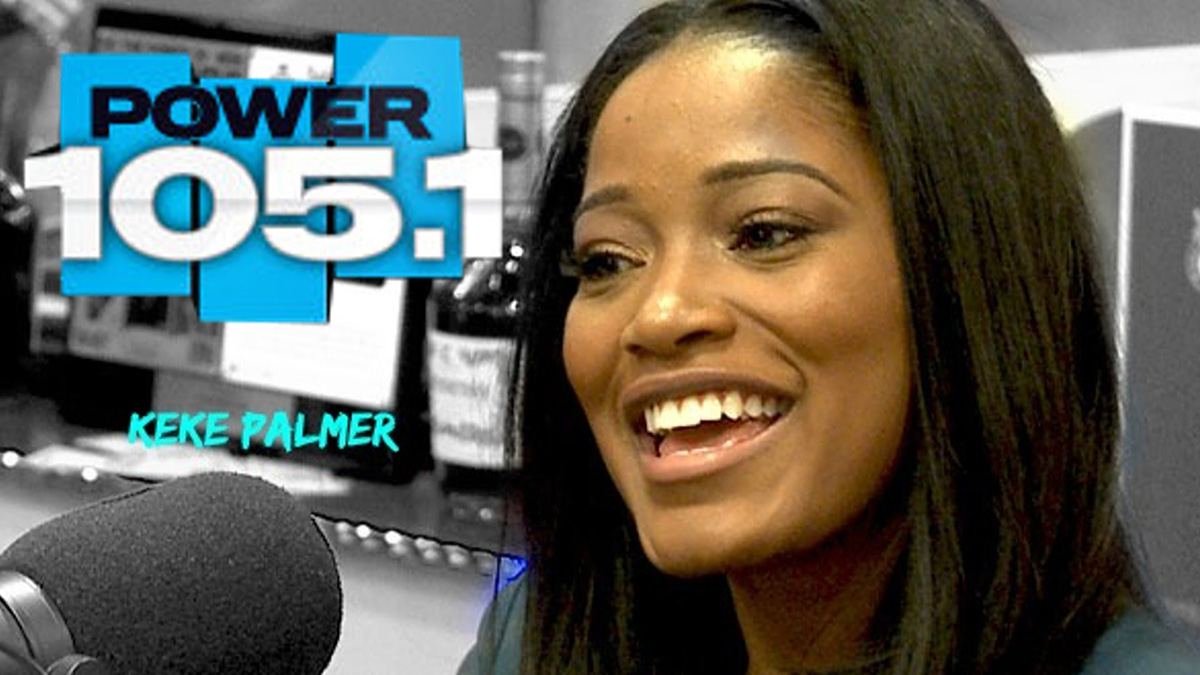 KeKe Palmer is everything we wanted to be growing up: smart, confident, well-off and knowing exactly what you want, how to get it, and what to do with it once you have it.
The 21-year-old actress stopped by the "Breakfast Club" last week, along with her mom, to let fans know what all she's been up to these past few months … and believe us, Keke has more than a handful, but in a good way!
During her stay, .KeKe covered a number of topics from her new movie "Brotherly Love" and TV show "Scream Queens," to not being a virgin anymore, having a crush on actor Evan Ross, who she would "Marry, F*ck, and Kill," her beef with Tia Mowry, and much more.
Check out excerpts below:
On not being a virgin:
"Baby girl living her life and doing her thing."
On if she gets horny during scenes:
"It's too awkward. You got people looking at you, you in each other's face. It's just weird."
On who she would F*ck, Marry, Kill:
Lil Durk – marry

Y.G. – kill

August Alsina – f*ck
On why she picked Durk to marry:
"He's a real dude. Durk is not petty, he is not gossipy. He's just about doing right for his kids and staying focused. And we're both from Chicago. He's a real good guy."
Angela Yee: So there's some potential there?
"Never say never."
On her beef with Tia Mowry:
"I really don't know what happened with that to be honest with you. I think a lot of time with social media, people will see one little soundbite or one little thing and they will immediately add something to it. Who knows what somebody could have sent her … I grew up watching "Sister Sister", even if I was this crazy type of hussy I wouldn't be trying to steal one of my inspiration's husbands. I love her."
On ever wanting to take a break:
"Sometimes i do say that, but then in my heart it's like look baby we got to keep on moving. Ideas in my mind, i'm always thinking about different things. I just want to put all that out into the world and use my gift."
On being called a "Thot" for getting piercings:
"I'm an actress I don't ever get to be myself, especially when I was doing Broadway I spent the whole entire four months being Cinderella. Eight shows a week, two shows on some days. So when you're done with that…yeah you're going to break loose."
On her personal struggle:
"I grew up in a home where I was the financial breadwinner. I gave up my entire childhood to be an actor. Now yeah I got something wonderful in return, but imagine what that felt like when I'm filming a movie and I can't see any of my friends, most of the films I did were with adults. My real point is to say everybody has struggles in a different form. You don't have to cry about mine, but we can relate about ours. We don't have to be sad about it, but understand I know where you're coming from."
On being a woman who is a boss:
"You can be a boss and be sexy at the same time. That's what I love about Beyonce. You can be feminine and a businesswoman. I think a lot times when a woman is businesswoman she feels as if she's lost a bit of her femininity or that she can't be sexy or that she can't be that sweet sensitive thing. It's like you have to be one or the other. I've run against that myself as well. I'm like wait a minute, am I gay? You have a moment where you feel like, why does it feel as if guys aren't attracted to that? Why does it feel like it's a role reversal? The guy completely changes."
Watch the full interview here: