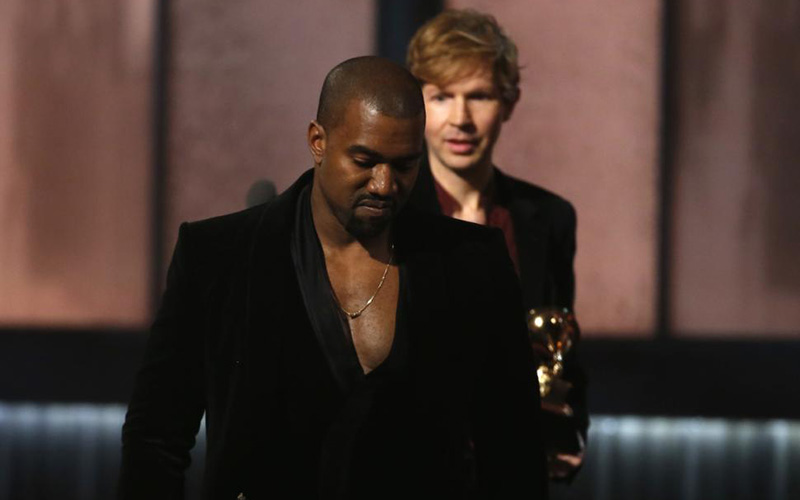 Beck has become a household name after Kanye West bum rushed the Grammys stage and pretended to snatch his mic away from him as he accepted his Album of the Year award for Morning Phase — which he won over Beyoncé's self-titled 2013 album.
The whole thing came off as a joke to everyone at the show and those of us who were watching at home, but Kanye made it painfully clear afterward in an interview with E! that he was not joking.
"If they want real artists to keep coming back, they need to stop playing with us," the rapper said. "Flawless Beyoncé video, and Beck needs to respect artistry, and he should have given his award to Beyoncé."
With those comments, you'd think Beck would be all "f**k that guy, he's (in the words of President Obama) a jackass." But Beck is a pretty cool guy, and he says he still loves Kanye and still thinks he's a "genius" despite the rapper's attacks against his artistry.
In an interview with Us Weekly at the Universal Music Group after party, Beck — who also thought Beyoncé was going to win — said he was "excited" when Kanye West joined him on stage.
"I was just so excited he was coming up. He deserves to be on stage as much as anybody," Beck said when asked how he felt about West crashing the stage. "How many great records has he put out in the last five years right?"

Even though he said Beyonce should have won? "Absolutely," replied the humble musician. "I thought she was going to win. Come on, she's Beyoncé!"

And what about his diss that Beyoncé is true artistry, and you're not? "You can't please everybody, man," he replied. "I still love him and think he's genius. I aspire to do what he does."
Michael Cera's dad is just happy he beat Beyoncé and won a Grammy for "Album of the Year."