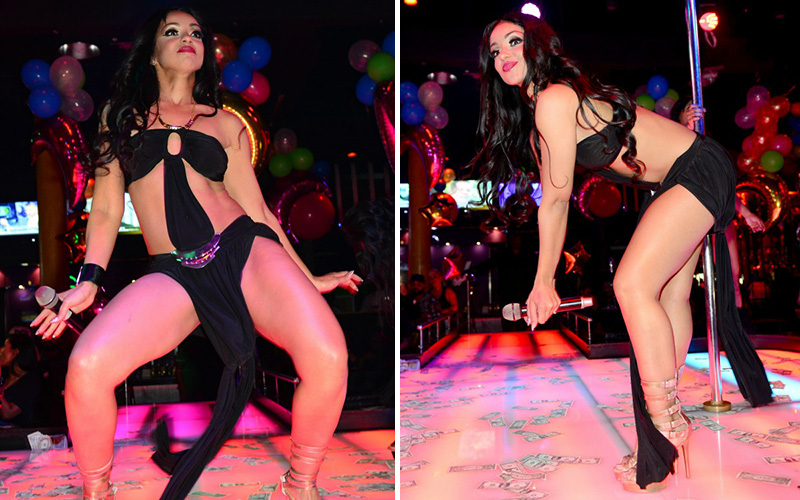 We all need money to survive, and just because the checks stop coming in doesn't mean that bills do. That's probably why R&B singer Mya booked a gig at a Miami strip club over the weekend.
After teasing new music on Instagram, the 35-year-old took her talents to Miami's G5ive strip club to perform new and old songs, and show off some dance moves.
Video clips posted online show Mya gyrating across the stage as dollar bills are thrown at her while she sings a new song called "Moving On."
At one point the sexy (but fully clothed) singer even joins the strippers, twerking, dropping it low and falling into a split.
Naturally, folks took to social media to comment on Mya's dance moves, including Bow Wow, who had more than a few things to say on Facebook.
"Mya is a stripper now? If not who advised that it was smart to perform and dance on the stripper stage," the former 106 & Park host wrote on his official page. "I cant stop laughing at the video my homie sent me of mya on the stripper stage dancing. Im like why though? Haha Hell she coulda borrowed that 1500 performance fee from the local D boy if it was that serious," he added.
"Basketball Wives L.A." star Brooke Bailey also chimed in, writing beneath one performance clip on Instagram: "She looks so dumb."
Others shared Bow Wow and Brooke Bailey's sentiments, but some people defended the singer and her right to make her dollars on any stage, strip club or not … because at the end of the day, a check is a check.
One user wrote: "Beyonce can bust it open at the Grammys on national TV but Mya is ridiculed for doing the same thing in a strip club?? NAH!"
Another tweeted: "Mya is Beautiful and she has/had talent so I don't understand why she hitting all the Stripper dances on Stage at the Strip Club, Just Sing!"
Mya is Beautiful and she has/had talent so I don't understand why she hitting all the Stripper dances on Stage at the Strip Club, Just Sing!

— Gayla? (@Oh_HeyGayla) January 24, 2015
Mya break dancing & shit in the strip club .. Life comes at u fast

— NaeNicole (@Nae2Bomb) January 24, 2015
1. Is Mya doing a show at a strip club?
2. Why is she doing this Darrin's Dance Grooves choreography?

— Shamira ?? (@_ShamGod) January 24, 2015
Wayment no one told me Mya was a stripper

— y marie (@WatchYazz) January 28, 2015
The singer Mya is a stripper now. Damn it's gotten that bad?

— Ya Boy Sharrod (@itsyaboysharrod) January 27, 2015
Beyonce can bust it open at the Grammys on national TV but Mya is ridiculed for doing the same thing in a strip club?? NAH!

— Tyler (@TyFromTheSky) January 24, 2015
After catching wind of the negative comments on social media, Mya addressed her critics, saying she's "been" performing at strip clubs and this is nothing new:
"I am whatever I choose to be when I choose to be it. The joy of life. Live it. Been doin' strip clubs, LGBT clubs, dance clubs, straight clubs, concerts, festivals since 1998 to date. I love all my fans and it don't stop. Instagram generation is late as hell."
Check out a few photos from Mya's strip club performance here:
h/t: Necole Bitchie via Instagram