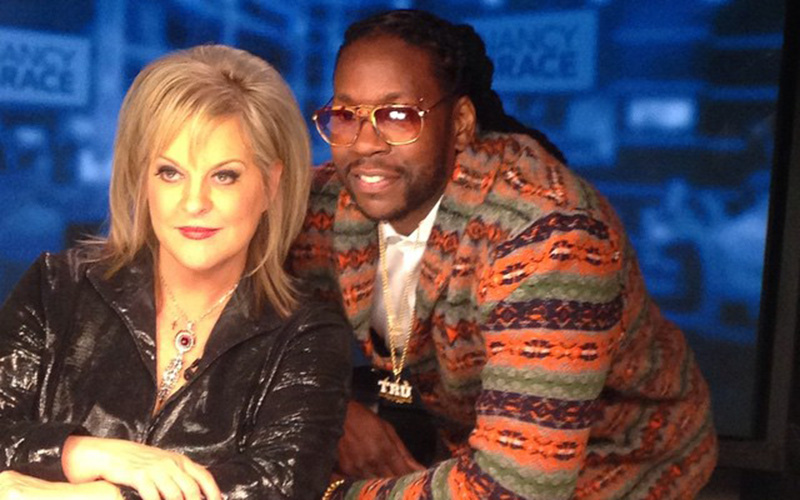 If you're looking for something to give you a headache, look no further than this 20-minute "discussion" between"POT!" expert (and professional screamer) Nancy Grace and rapper 2 Chainz about the legalization of marijuana.
#Pot2Blame? Nancy Grace is on the case!
After introducing the rapper as "a superstar in his own right, known as 2 Chainz, also Tauheed Epps, also Tity Boi … one of the most famous rappers in the world," Nancy asks Mr. Chainz why he supports marijuana legalization since she knows he graduated from Alabama State University with a 4.0 GPA on a basketball scholarship.
"I've seen video of you smoking a big fat doobie," she says to him while showing viewers the footage, and at one point she quickly diverts the discussion of pot to randomly ask him, "And while I have you, why the 2 Chainz?" (LOL! Never change, Nancy.)
She tries to use videos of irresponsible parents giving their toddlers joints to drive her point home, to which 2 Chainz responds, "These people are obviously irresponsible people. You can't use this case to define an entire community."
Grace also unsuccessfully attempts to discredit 2 Chainz' opinion by pointing out his explicit lyrics and lifestyle, yet 2 Chainz maintains his composure, despite attacks on his parenting skills and his character.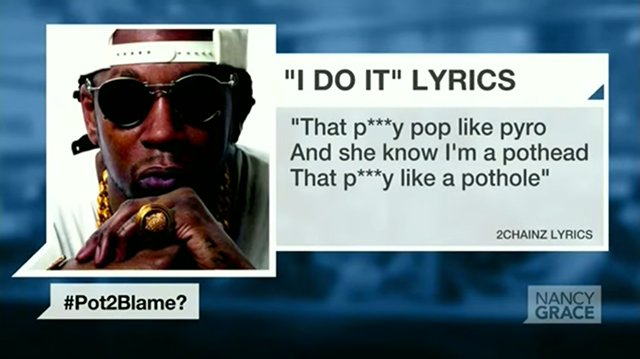 "Some of your lyrics are so incredible," she says, cutting him off while he's explaining the story behind his name, "but then other of your lyrics advocate a different kind of lifestyle. A lifestyle I don't think you would want little children exposed to. I mean, do you have children?"
Yes, 2 Chainz is a parent. "I have two beautiful girls, and I'm a great father," he says. But that has nothing to do with how and when he consumes marijuana, because he has the good sense not to allow his young children to smoke it, unlike those "imbecile" parents in those videos Nancy and "Liz" keep showing him.
But according to Nancy, 2 Chainz — as influential and intelligent as he is ("My stars, man, you graduated with a 4.0. You're a millionaire … You're successful. At some point you have to look in the mirror and say this is wrong," she shouted to him) — should know better.
And in Nancy's opinion, knowing better means "POT!" is bad and he should be all the way against it, because of the children. Why is he not thinking about the children?
"Giving your kids drugs is just wrong," 2 Chainz says. "We know that. You don't have to be a genius. You don't have to graduate from school. You don't have to be a successful artist or entertainer to know that giving any child—not just your child—drugs is wrong. You know that. I'm not gonna argue with that."
After all was said and done, the two remained friends. In fact, Nancy wants a re-match! (Does that mean she's accepted her defeat?)
hey @NancyGraceHLN thanks for having me today!! We should make this a monthly thing what ya think?

— Tity Boi (2 Chainz) (@2chainz) January 14, 2015
.@2chainz you're on. I'm gonna talk u out of this pot thing. Ps. I don't think that's a real rolex u have on. #Pot2Blame?

— Nancy Grace (@NancyGrace) January 14, 2015
We still cool! That was a great debate thanks Nancy…bill o Reilly U up next! #TRUsday http://t.co/LPAGNHTBU3

— Tity Boi (2 Chainz) (@2chainz) January 14, 2015
.@2chainz you are hereby challenged to a rematch! #pot2blame? pic.twitter.com/5vbSKIILVL

— Nancy Grace (@NancyGrace) January 15, 2015
h/t: Daily Dot