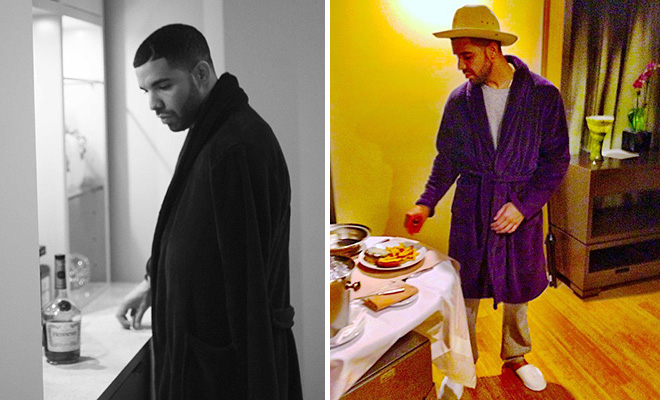 Drake (kinda sorta) acknowledged his "fight" with Diddy — the one where he ended up in the ER after getting punched and dislocating his shoulder — on Instagram.
Without specifically mentioning the scuffle, which was reportedly over a beat, Drizzy took the passive-aggressive approach by sharing two images: a black-and-white pic of him in a bathrobe solemnly staring at a half-full (we're being optimistic here) bottle of Hennessy, and a color photo of him in that same bathrobe observing a tray of room service food.
"They're either talking shit about you or stealing the shit you're talking…either way the name been poppin," he wrote in the first photo's caption.
He wrote in the other photo's caption: "I put on a @kevinhart4real hat to eat this room service. I am slowly starting to understand why you constantly wear these. It made my meal feel more exotic. Cheddar was looking more like a provolone or a rare Brie. Thanks Kev."