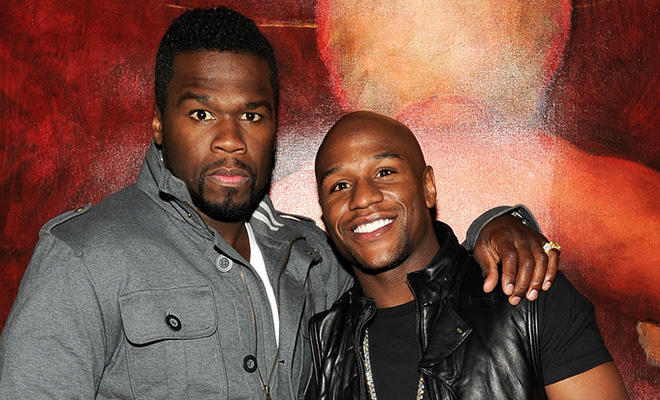 Last month when 50 Cent challenged Floyd Mayweather Jr. to read one page of a Harry Potter book, without messing up, in exchange for a $750,000 donation to charity, the Internet responded with taunts/laughter (which wasn't made any better by an audio clip leaking of him struggling to read a radio drop).
And of course "Money Mayweather" responded to 50's taunts in a way someone with a nickname like this should by posting screenshots on Twitter of two of his most recent checks for his boxing matches, both equaling up to over $72,000,000. (Floyd Mayweather SR. — Floyd's dad — even got in on the beef by challenging 50 to fight his son one-on-one.)
But in a more recent response, Mayweather Jr. is now telling his former friend exactly where he can put his money.
"I was thinking of something, you know, when you asked me about 50 Cent. If you want to donate money, donate money to the Mike Brown family," Mayweather said (via Yahoo! Sports) earlier this week. "I shouldn't stop you. Our company, me and Leonard [Ellerbee], we have been donating hundreds of thousands of dollars to different organizations for years without any media, without getting credit. … The best thing for 50 Cent to do, and there are no hard feelings, is to give that $750,000 to Mike Brown's family."
Mayweather added, "It was a very, very bad situation, the Ferguson thing … I like to sit down and talk and communicate with my kids on a regular basis, about being fair, etiquette, honesty. Because as I was saying before, it's a very, very bad situation."
Floyd is scheduled to meet Marcos Maidana in a rematch for the WBC welterweight and super welterweight titles at the MGM Grand Garden in Las Vegas next weekend (Sat. Sep 13) and at a news conference Thursday for the fight, he was asked several questions about 50 Cent's reading challenge before finally trying to put the matter to rest.
From the L.A. Times:
"My thing is this, I try to focus on Maidana," Mayweather said. "I don't really focus on that. I know what I can and I can't do. You guys don't know when you're dealing with pay-per-view you have to read at least 60 to 70 teleprompters, and I don't think they could choose a better person for the job than myself. I go out there and I do it with no problem.

"I just feel like basically I'm not judged by a person, I'm judged by God. Reading does not define my place in boxing history. Will God not let me in heaven because I didn't read like a news anchor? Me, myself, I would be perfect at reading if it was how I made my living and fed my family. Once again, intelligence and education are two different things.

"Making fun of a person because they can't read is not funny. It's tragic. Second, if I really couldn't read it would make my accomplishments even that much more amazing. I don't know if 50 Cent is a boxing promoter, I don't know if he's making music; I really don't know. My focus is on Floyd Mayweather, and I wish 50 Cent nothing but the best."