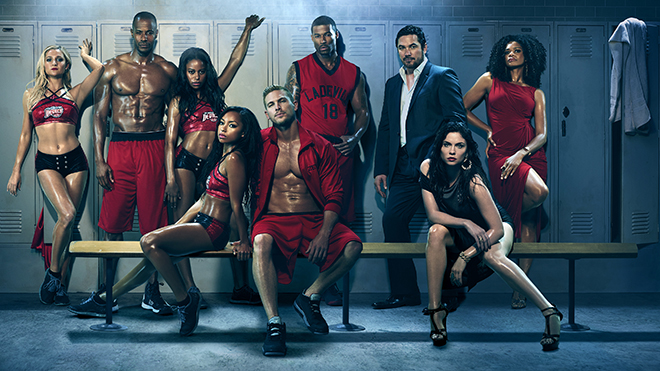 In Episode 11 of the second season of VH1's "Hit the Floor," the Devil Girls infiltrate enemy turf. Meanwhile, German and Ahsha inch closer together; Jelena plays a dangerous game; Lionel and Sloane have it out; Derek corners Jude; Kyle is pushed into betraying a friend; and Oscar delivers startling news.
After a very successful first season, VH1's original scripted series "Hit the Floor," last summer's #1 new scripted series on cable among Adults 18-49, is back for seconds!
Set in the world of professional basketball, "Hit The Floor's" season one finale shook up Devils Nation with a new All-Star, a new Devil Girls Director and several new hook-ups. The series, which averaged 1.9 million viewers in its debut season, will pick up right where the juicy drama between the Devil Girls dance team and the coaches and players left off.
Now that Ahsha is single, there's room for her and Derek to explore a relationship. Sloane has taken the job as Devil Girl Director, adding tension to an already strained mother-daughter relationship. Jelena, team captain, keeps a close eye on Ahsha and Sloane, watching for any opportunity to get rid of them both.
There are love triangles galore as new characters join this spicy soap including Lionel, Coach Davenport's estranged, starlet wife; Zero, a God-loving superstar player who is immediately drawn to bad girl Jelena; and Jude, an ambitious junior agent who's come to Devils Arena with a very big agenda.
Everyone has a secret to protect, until a big mystery threatens to expose them all. Hit The Floor season two gets amped up with cliff-hangers in each episode leaving viewers constantly guessing what will happen next. This hot new season brings more sex, drama, secrets and excitement as well as twelve new jaw-dropping dance routines choreographed by the legendary Michael Rooney.
WATCH VH1'S "HIT THE FLOOR" SEASON 2 EPISODE 11 ABOVE
Published