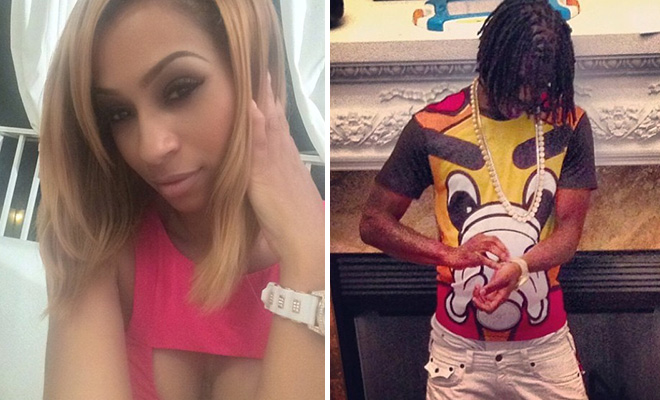 Cougar Alert! Cougar Alert!
Is Karlie Redd trying to hook up with Chief Keef?
The 40 or 50-something-year-old "Love & Hip Hop Atlanta" star was recently flirting it up with Sosa on Twitter and even called the 18 year-old rapper her boo.
It all started when Karlie retweeted a picture a fan posted of Chief Keef saying that he was "the real Daquan."
"My boo love his fans," Karlie wrote.
Keef caught wind of Karlie's tweet and the two went back and forth from there.
Karlie Redd and Yung Joc are still together from what we hear, but it wouldn't be at all surprising if they broke up and she got with Sosa. This chick has been with everybody from Benzino and Roscoe Dash to Jeremih and finally Joc. Now that's what you call thotting all over the world…
Check out Karlie's Twitter exchange with Chief Keef below:
RT @RahleeFranklin: Chief Keef the real Dequan ???????????????? pic.twitter.com/vfJ395sjmX> my boo loves his fans ????

— KARLIE REDD (@KARLIEREDD) July 11, 2014
"@KARLIEREDD: RT @RahleeFranklin: Chief Keef the real Dequan ???????????????? pic.twitter.com/brlzru4rMi> my boo loves his fans ????"On Mommy's I do

— AlmightySo (@ChiefKeef) July 11, 2014
"@AyeeeYazz: @ChiefKeef why you go on karlie????????????" no I was saying ????? no talking ????

— AlmightySo (@ChiefKeef) July 11, 2014
????????????????@ChiefKeef pic.twitter.com/mcHdlGi0qT

— KARLIE REDD (@KARLIEREDD) July 11, 2014
"@KARLIEREDD: ????????????????@ChiefKeef pic.twitter.com/tsl51J5gLn"Members

— AlmightySo (@ChiefKeef) July 11, 2014
RT @ThaRealPrestige: That would go if @ChiefKeef and @KARLIEREDD went on Love And HipHop together > ????

— KARLIE REDD (@KARLIEREDD) July 11, 2014
Published