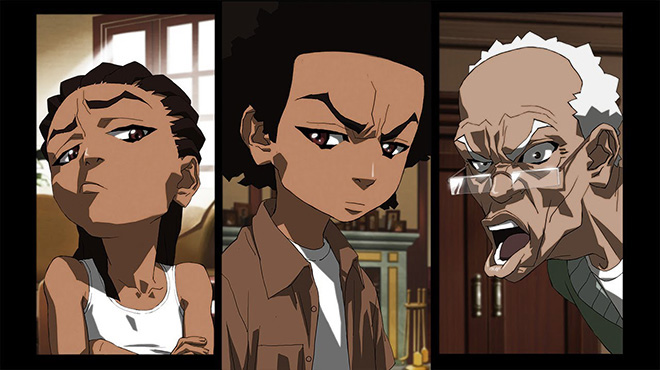 "The Boondocks" Season 4 Episode 9: 'Stinkmeaner: Begun The Clone Wars Has' aired Monday night (Jun 16) on Adult Swim.
In this episode, Stinkmeaner is back, or at least his clone is. After a fight with Granddad goes viral, Stinkmeaner turns into an instant celebrity. And seeking revenge, Granddad's hate may cause him to be yet another clone of Stinkmeaner.
Robert "Granddad" Freeman is the cantankerous legal guardian of his rambunctious grandkids Huey and Riley and has moved them from the south side of Chicago to the quiet and safety of "The Boondocks" (in this case, suburban Woodcrest), hoping that he can ignore them altogether and enjoy the golden years of his life in peace.
But Huey, a 10-year-old left wing revolutionary, is determined not to enjoy the affluence of suburbia. This attitude is seconded by his 8-year-old brother, Riley, a proud product of contemporary rap culture. Although they torture each other and provoke the neighborhood, they are no match for Granddad, who is eccentric even by "crazy-ass-old-black-man" standards.
WATCH "THE BOONDOCKS" SEASON 4 EPISODE 9 ABOVE
Published