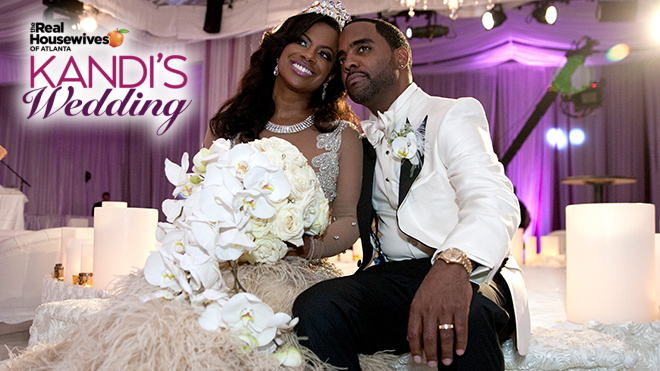 In the second episode, Kandi's wedding planning team recovers from Carmon's emotional exit, but it's not clear if Kandi and Todd can recover from Mama Joyce referring to Todd's deceased father as a "pimp."
Also, Kandi meets with her father and asks him to officiate her wedding, but gets more than she bargained for when he dredges up family issues from the past.
And in an emotional sit down with Mama Joyce, will Todd be able to stand up for himself?
Kandi Burruss plans her dream wedding in this reality show spin-off of the "Real Housewives of Atlanta." Each episode of "Kandi's Wedding" follows Kandi and Todd as they plan a larger-than-life "Coming to America" themed wedding ceremony, signifying the couple's initial introduction in Africa.
The two are confident that they can pull off their dream wedding without the help of a wedding planner, and in only five short weeks. Adding to the pressure of a major time crunch is the reality that family drama is never far away.
Kandi and Todd are hosting his mother at their house prior to the wedding and are faced with her opposition towards the outspoken Mama Joyce. Will there be a clashing of mother- in-laws and will Kandi find the strength to stand up to Mama Joyce, or will her powerful influence jeopardize the bride-to-be's fairytale wedding?
Watch "Kandi's Wedding" Episode 2 Above!